Student Advice on moving into Halls

Preparing to move to University?
Have you received your results and are now thinking about how you need to prepare for moving into Halls?  As much as the move from home to university can be an exciting time, it also can be a stressful and worrying time for yourself and for your parents. 
Most probably you've seen websites, brochures and leaflets showing scenes of university life including cosy rooms with every home comfort. The reality is you'll be presented with a room that's not much more than a basic shell, with just a bed, a desk & chair and a wardrobe. You'll need to provide most of the essential items yourself.
---
A few things that will make the move easier

Finding all the essentials you'll need to settle into university life can be time-consuming and costly. Not to mention the inconvenience of transporting everything to university, whether by car, coach, train or even plane.
Going shopping for bedding, towels, cutlery and other essentials can be confusing; not knowing what items are good value for money and what items are just not going to last.  Don't be fooled by the cheap items as they can prove to be a false economy. 
Imagine how much easier life would be if:

You could find all your essential items, from bed linen to cutlery, had been delivered to your study-room before you even got to university
You could have other desirable items, such as televisions, music systems and bicycles, delivered as soon as you confirmed your arrival
Click2Campus is an online store that provides essential packs and services tailored for student living in the UK. Click2Campus is a well established online store that has been providing student services for nearly a decade and works with over a third of universities in the UK and an extensive list of accommodation providers.
 The service Click2Campus provides means you can order your essentials as far in advance as you want for whatever date (Monday to Friday) you choose the delivery to arrive.
Click2Campus helps make the move from home to university as hassle-free as possible, as well as saving not only time but also money - for you and your parents.
---
All-Essential-Pack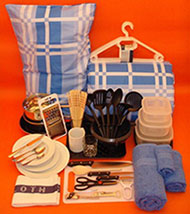 The best-selling Click2Campus pack is the 'All-Essentials-Pack'which contains every basic item you'll need to quickly settle into your new environment including: bedding, towelling, crockery, cutlery, glasses, pots & pans, and meal preparation & serving utensils. The packs can either be delivered to your home over the summer or (ideally for you) directly to your university accommodation.  
Save time & money and remove the stress of shopping for essentials and simply get on with enjoying university life!
All you need for student living . . .