Student accommodation – what to expect

Choosing your student accommodation
Applying to uni takes a lot of emotional effort and concentration while working and revising for your A levels in the final year of college. It can be difficult to look beyond results day and forward to the day you will actually leave home and start your first term. Going to university is a big and exciting step – this will be the first time most students live away from home and you may be wondering just how you will be living and what student accommodation is like.
The best way to find out more is to go to a university open day and see the student accommodation in your chosen universities for yourself. In the meantime, here is a brief introduction to what your university will probably be offering.
---
Student rooms have made it to the 21st century
In most universities, living accommodation for students is standardised with blocks and rooms being recently constructed to provide everything you need. You will usually be offered rooms in halls of residence in your first year and some universities have student accommodation provided for second and third year students too, although most live out in private rented rooms and shared houses.
It is difficult to describe the 'typical' student room when they vary within a university as well as between institutions but this is pretty close:
Your room in halls of residence will not be huge but it will have space for a single bed, clothes storage, bookshelves and a desk and notice board. All the furniture will be provided and there will be curtains at the window but the furnishing style will be clean and basic.
Most student rooms are grouped together in flats of 4, 6 or 8, which share a communal kitchen and cooking facilities. Most flats have an iron and ironing board and a vacuum cleaner. You will be able to access a communal laundry fairly close to the hall of residence but not in your flat.
More student accommodation is now en-suite and you will get your own shower room and toilet. This can range from a small bathroom to a tiny wet room not much bigger than a train loo but having private washing facilities is a luxury. If you parents went to uni, as they will be fond of telling you, no-one had a private bathroom 30 years ago.
You can expect an internet connection in your room and WiFi to be widely available across the campus. If you have difficulty connecting your computer and other devices, student support services will be on hand to help.
---
Some of the rules of student living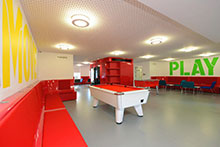 It's not surprising that universities set up some ground rules for living in their student accommodation. These are to make living there safe and as pleasant as possible for everyone.
No university halls of residence will allow smoking in your room and most institutions do not allow it within the grounds either, or there may be a rule of no smoking within 10 metres of a building. To minimise fire risk, most halls of residence do not allow candles of any sort and ban you from having electrical equipment such as a kettle, toaster or cooking appliances in your room. These are restricted to the kitchen.
You will also get regular inspections to make sure your room and the communal areas are not getting too gross. Your flat may have a rota for cleaning and emptying bins etc. Not doing your chore properly will probably lead to a fine to pay contract cleaners to clean up the mess.
An important external rule to be aware of is the need to have a TV licence if you intend to have a TV that picks up live programmes. Although a shared house only needs one licence, every student in halls of residence needs their own. Most students make do with watching programs on their laptop, ipad, MAC or PC via BBC iplayer and 4OD or get a subscription to Netflix or LoveFilm as you don't need a licence for any of that.