Veterinary School Open Days

Veterinary science is one of the hardest courses to get onto. There is a lot of competition so you will have a better chance of getting into the university that you want by striving to be one of the best. Going to open days at veterinary schools will be worthwhile as you will find out how to make your personal statement stand out from the usual boring ones and how to wow the admissions tutors at an interview. 
Open days will also tell you things that you may not have known about the veterinary admissions process. You need to have completed a fair amount of work experience before you apply but each university will let you know how many weeks they expect from you at their open event. You may also be required to bring some written references from your work placements to an interview and again, open days will provide you with the opportunity to ask university staff these questions. 
There will be talks about the veterinary science course that will tell you about the ratio of lectures to practical work. Practical tasks can include anything from dissection to live animal handling. The admissions process will also be explained to you in detail as it can be quite complex. You can find out what is involved in the preclinical and clinical parts of the veterinary course and will have the chance to speak to current students about their university experience. A couple of good questions to ask them at an open day are what a veterinary student's typical week consists of and how a student is assessed on the course.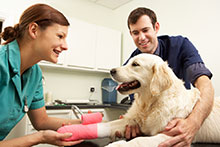 There are usually tours of the campus and student accommodation. Make sure you take the opportunity to do this as it is important to see the entire place that you may choose to live and study at. Some universities allow you to look at the veterinary teaching facilities but some may not. These facilities may include lecture theatres, dissection rooms and laboratories. 
---
Further Information
Find out more about individual Veterinary School open days by visiting our Veterinary School open day pages below: