Make Your American Dream Come True!

Thinking about studying abroard
Lauren Welch, Director, Advisory Service US-UK Fulbright Commission
Considering applying to US universities?  Not sure where to get started?  Read on for more information on how to join the over 4,000 British undergrads in the US this year!
---
Why Study in the US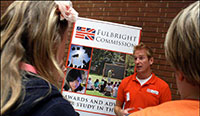 Why do so many students cross the Atlantic for their studies? In a recent survey, we found British students were most attracted to the US for its liberal arts degrees (you don't have to choose your major for the first year) and the opportunity to experience American campus life. Cheer on your university's football (American that is) team to victory, join one of the many clubs on offer or even form your own! Studying abroad is not only a fun and exciting way to learn about a new culture, but also an investment in your future. More than half of UK employers favour graduate with overseas work experience.
---
Getting Started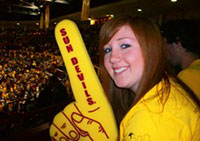 Ideally, students will begin the process of researching universities and the application process 1 to 1½ years before they wish to attend.  That means if you want to study in the US in 2013-14, you will want to start the process by summer 2012. However, if you are getting started slightly later than that, there will be time to put together your applications. You will simply need to work at a faster pace!
The first step is to make sure US study is a good match for your goals. Talk with your parents, your careers advisor and anyone you know who has been to or studied in the States.
Next begin researching universities with a view to narrowing your search to the 4-6 institutions to which you will apply. Be sure to consider a range of factors, including the academic programmes, campus size and setting, availability of funding and competitiveness of admission. Remember that in the US, it is more important to find the right fit than to only apply for a handful of 'name-brand' universities. With so many universities to choose from, it is very likely you will apply to several you've not heard of - and that is OK!
You may want to use popular search engines www.petersons.com and www.collegeboard.org.  Attend Fulbright's USA College Day fair in the autumn to meet over 125 American universities. If you aren't able to visit universities in the States, take advantage of online tours and virtual open house days.
---
Preparing Your Application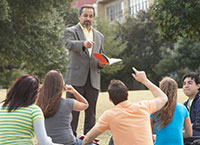 As you prepare your applications, keep in mind that most universities will require you to submit an application directly (although there is a Common Application for 450+ universities).  Therefore, application deadlines and forms can vary slightly.  That said, deadlines generally tend to fall between mid-October (for early decision/action applications) through January (for regular decision applications).
Most applicants will likely need to sit an admissions test, the SAT Reasoning Test or ACT. The most competitive universities may require two to three SAT Subject Tests in addition to the Reasoning Test or the ACT Plus Writing.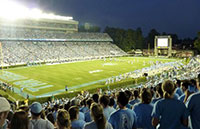 Additionally, students will submit a transcript from their school listing the students marks in the final four years before university (typically GCSEs and A-levels), as well as up to three letters of reference from contacts who know the student well both inside and outside of the classroom. You will also have the opportunity to submit 2-3 essays, describing your academic interests, extracurricular activities and you as a person (US universities want to know about more than just your grades!) See the Fulbright website for a sample transcript, as well as tips on writing reference letters and essays.
Those applying by the early deadlines may receive their offers of admission before the holidays, and those applying by the regular deadlines will hear back by 1 April.
---
Resources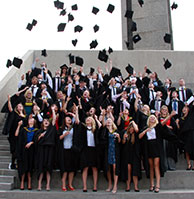 There are many resources available to help you apply for US study. University websites are the best place to find specific information on application deadlines, requirements and available funding.  Many students find it helpful to talk with friends and family, as well as their careers advisors. Some students even consider visiting the US. Additionally, you may wish to use resources provided by our office, the US-UK Fulbright Commission - EducationUSA. The US-UK Fulbright Commission is funded by both governments to promote educational exchange.   Check out our website www.fulbright.org.uk for a complete guide to applying to American universities, student success stories, tips from staff and much more!