Undergraduate Accommodation – Finding your Best Option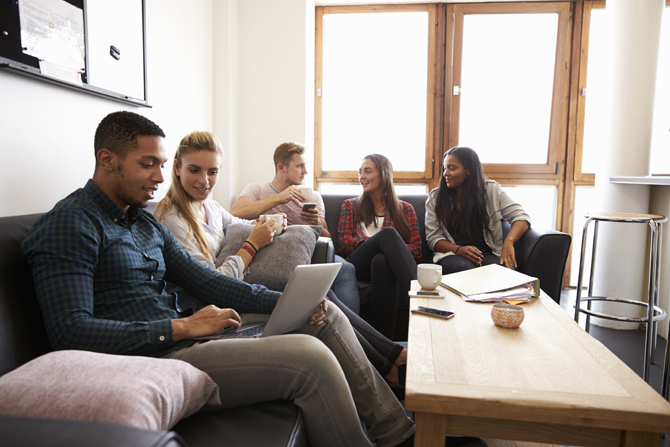 University accommodation can be tricky, particularly if this is your first time away from home and you're used to it being just you and your family.
Regardless of which option you choose, you're almost certainly going to be living with other people that you haven't met before, so it's worth getting your head around this before you pack your bags.
Although this is a great opportunity to make new friends, there's also no guarantee that you'll be put with a likeminded group of people, so be prepared to make compromises and accept that sometimes people do things differently to you. We're not saying you have to put up with a whole term's worth of dirty dishes though!
Here's more about the different types of university accommodation on offer:
---
University-owned halls of residence
This is where the majority of students start university life.
University-owned halls of residence usually have the option of shared or not shared bedrooms, shared or ensuite bathrooms, and catered or non-catered rooms. Living and kitchen facilities will be shared with the other students in your halls.
Pros: the opportunity to meet people from the moment you move in, your onsite or very close to campus, and you'll have onsite support for accommodation.
Cons: you don't get to choose who you live with, you might not be guaranteed your first choice of accommodation, and university campuses are rarely quiet!
---
Private-owned halls of residence
In cities and bigger university towns, privately owned halls of residence are becoming increasingly popular.
The purpose-built student living complexes are owned and operated by private companies (which may or may not work in partnership with the university), can be more expensive than university halls of residence, but might offer a higher standard of accommodation.
Most universities can provide a list of approved accommodation providers to help you ensure that certain living standards are met.
Pros: desirable locations, enhanced facilities (for example a residents' gym), and purpose built accommodation specifically for students.
Cons: a higher cost (including additional costs) and the same downsides as university-owned halls such as not being able to choose the people you live with.
---
Private rented accommodation
If you'd rather not live in halls or you don't get a place in halls then you might move straight into private rented accommodation at a Fresher.
Again, many universities provide lists of approved accommodation providers and local student letting agents.
Pros: having more say in who you live with (there are often university Facebook groups for students looking for housemates), and more choice in the type of accommodation.
Cons: dealing directly with the landlord/letting agent, administration, bills etc., and you might find yourself living further away from the university.
---
Staying at home
There's no rule that says you have to live at university, particularly if your home is close enough that you could commute. In fact, if money is tight, this might be a more budget friendly way to get your degree.
Pros: you don't have the hassle of moving, you probably won't be charged market value rent, and you could still have someone to take care of your meals and laundry.
Cons: some students find it harder to make friends if they stay living at home, and you might not always have the independence that you want when you're becoming an adult.