NUS

What is NUS?
By Liam Burns, President of NUS
NUS exists to promote, defend and extend the rights of students and to grow the strength of our more than 600 affiliated college and university students' unions and every student at an affiliated college or university in the UK is automatically a member. Students' unions in universities and colleges are there to provide social opportunities for their members and to campaign to protect students. When you buy an NUS Extra card most of the money goes straight into funding that work by your students' union and NUS so your sports clubs, societies, campaigns have more cash to spend on you.
---
Campaigning for Students
Over the coming year NUS will be campaigning to make sure that students at college and university have more money in their pockets when they need it, that their courses are properly funded, that all young people regardless of their gender, race, religion, nationality or sexuality are treated equally and that we ensure that every student with the ambition and talent to continue their education can afford to do so.
Over the last year students' unions have continued to win major victories around the UK including winning £15m for college students in Scotland, saving the EMA in Wales and stopping the worst effects of scrapping EMA in England. On campuses unions are fighting for better accommodation, better facilities and holding their universities to account while simultaneously running the clubs, societies and social spaces that make university life so special.
Buying an NUS Extra card will save you money on some of life's essentials and some of the not so essentials. At the same time it will help to fund our work fighting for students everywhere.
---
NUS Extra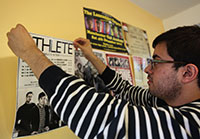 Extra is the student discount card from NUS that gives you discounts at over 120 high street and online retailers. It's available to all students for £12 a year which is a bargain considering that the average students could save over £500 a year using the card. With the addition of the International Student Identity Card upgrade to your NUS Extra card you will access to even more discounts all around the world. Find out more
NUS Extra will give you discounts throughout your time at college or university. When you're getting yourself equipped for your course discounts at Comet, Apple, Staples, Ryman and Amazon will help you keep costs down. If you're moving away from home you can get money off home essentials at Littlewoods Clearance and Matalan. When you need new clothes you'll get discounts at ASOS, Warehouse, Firetrap, Office and many others. When you want to treat yourself to meal out you'll get 25% off food at places like Frankie & Benny's, Pizza Express and Zizzi. And, NUS Extra will also get you entertainment discounts at Odeon, Ticketmaster, Game and we've just added our biggest ever discount in the form of 50% off a Spotify Premium subscription. These are just a small selection of discounts that you'll get at places like Superdrug, Vision Express, JJB, and mobile operators Orange, 3 and O2. 
---
Further information
Check out www.nus.org.uk to find out more about NUS and what they can do for you!