New to uni: study with style

Independent learning
Most colleges now go out of their way to help students prepare for university. Lessons are often conducted in a 'lecture' style and students are encouraged to do their own reading and some independent learning. Going to uni for the first time is still often a culture shock though. For the first time, you are left to motivate yourself and to take responsibility for your life and your learning.
---
Yay – free time – or is it?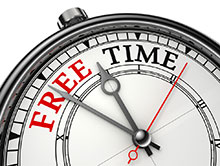 When you go through your induction lectures and meetings in Fresher's week you may be pleasantly surprised to find you only have lectures on two days each week with maybe a couple of seminars or group work on another day. Great, two free days and the weekend to shop, go out, hang out, sleep...
This is not true for all courses, but many humanities and arts based courses have much less formalised teaching.
However, well into the first term, most students notice that reality is beginning to dawn as the first assignments are due in and they realise that their studying style has to move up a few gears.
---
Developing self-discipline
Although going to uni is a great life experience and no-one should spend their whole time doing nothing but academic work, you actually do have to do some work. Developing good habits from early in your first term can pay dividends.
Here are our top tips:
Check your lecture timetable. There may be some choice but make sure that you turn up for all the lectures you need to attend. Most universities put their lecture notes online, so if you miss one through illness (or hangover) that won't matter too much but it's not the same as being there. Seminars are even more important as discussion around the topics you are studying can help deepen your understanding of important concepts.
Get your assignments in on time. This isn't school or college, but that doesn't mean there are no penalties for not handing work in on time. Excuses are rarely tolerated and you can't get your mum to write you a note... Some lecturers will dock you 10% of your marks for an essay if it's just 24 hours late. Some will give you no marks at all if it's significantly later.
Presentation is everything. Most universities will expect your assignments and essays to be produced on your computer and printed. Professional presentation is a general requirement.
Referencing your work. You are now studying at a level that only 10% of the population ever aspires to, so you have to be more rigorous about where you have got your information from. Essays need to be referenced, with text books, papers from peer-reviewed journals and websites having their own citation rules. Your department will probably give you guidelines, which you must learn and then stick to.
File your notes and the lecture handouts in date and subject order. Yes, very prim and proper, but this will save you so many headaches later in the year.
Avoid plagiarism like the plague.If you thought the penalties for cheating and copying were harsh at college, you can safely assume they will be quadrupled at uni. Plagiarism gets students kicked off their courses every year, so just don't even think about it.