Managing Your Money at Uni
Top tips for the cost of living crisis from the University of York
If you're considering going to uni in 2023, you might be thinking, "how wilI I afford it all?" And you're not alone. The current cost of living crisis means we're all feeling the pinch, with bills, food prices and transport costs rising.
---
Funding your study
When it comes to covering your yearly tuition fees, all first-time UK students are eligible to apply online for a Tuition Fee Loan from the Student Loans Company. Your fees will be paid directly to your university.
You might also be eligible for a Maintenance Grant to help with living expenses. Plus if you meet certain criteria like having a disability or children or other dependents, you could be eligible for additional support from the UK government.
In terms of repaying your loans, you won't start paying it back until you've left uni and earning over £25,000 per year. This figure is updated in April every year. If you haven't repaid the loan 40 years after you have left university, then any remaining debt will be written off.
Financial support at York
At the University of York, we're just as concerned about the money worries of our students. That's why we've created the cost of living hub – a range of financial support, like loans and non-repayable grants. Our library even offers free laptop loans if you find yourself without tech!
If you're experiencing financial difficulty after a change in circumstances, you may be eligible for the Student Support Fund, or even a non-repayable Household Energy Grant of £150 per eligible household.
Chat to our Student Support and Advice Team to discover more ways we can help you.
Budgeting tips
For many students, starting uni will be the first time you've needed to manage your own money independently. Here are some top tips from our students to make your money go further.
Shopping
Check out Rhiannon's top tips for smart hacks to save money on your weekly food shop.
Transport
So, it's a new term, and you've decided to take the train to York. Or perhaps you're visiting friends at another uni. Either way, train travel can add up.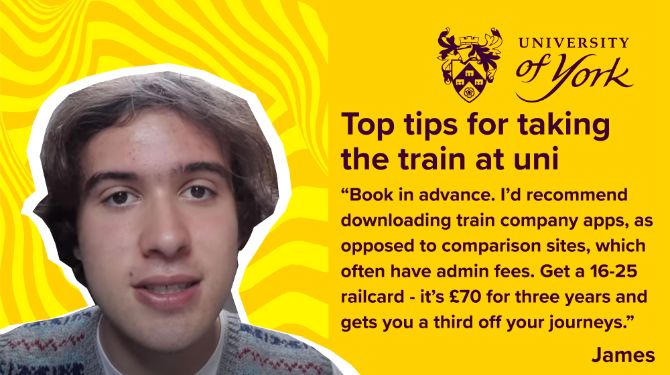 In York you can also get unlimited travel on YourBus66 with a student rolling month ticket. York is very walkable. You can walk from the University to the city centre in around 30 minutes in the right pair of shoes!
Part-time jobs
A part-time job is a great way to support yourself and earn a bit of extra cash, just remember to leave time for studying and socialising. Read Sammie's blog for her experience on managing part-work and study.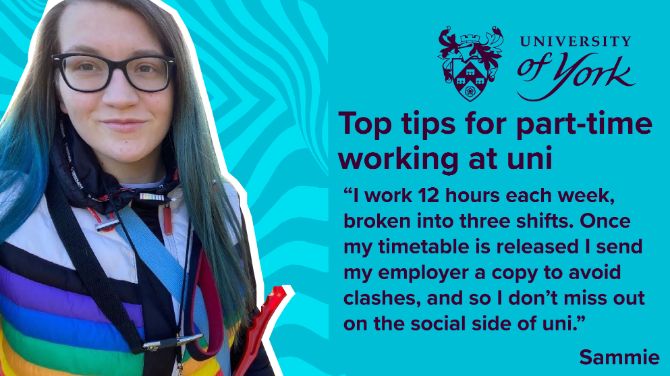 ---
Find out more about the University of York and how to apply.