Gap Year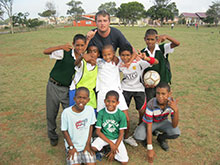 In the light of the rise in university tuition fees from autumn 2012, many young people will be facing a dilemma about whether they can afford to take a gap year before entering higher education or, indeed, whether they can justify the cost of going to university at all.
According to Callum Kennedy, Director of BUNAC, the long-established not-for-profit work and travel abroad organization, there are answers to this dilemma. It's possible to have a very worthwhile "mini gap" during the long summer holidays. And, for those who missed out on a university place for autumn 2011, this may be their best chance to take some time out in the "university of life" and head off for a gap year in Canada or Down Under, where there are plenty of paid career-related and seasonal jobs available.
Says Kennedy: "The rise in university tuition fees is obviously going to put tremendous pressure on young people's pockets and many may decide to opt out of higher education altogether rather than saddling themselves with huge debts before starting their career."
Continues Kennedy: "The lucky few who have avoided the hike in fees and secured university places this year will be making the most of their long summer vacations to work and travel. Taking a well-planned "mini gap" between late May and September is really beneficial in terms of personal development and adding vital skills to your CV, especially in the current job market.
"Work America is available exclusively to those in full time higher education so it's a "now-or-never" opportunity to do a seasonal summer job and see the States. This year, we have seen students secure impressive jobs that will undoubtedly enhance their employability when they finish their studies. Current members are working in a wide range of sectors from law, marketing, public relations and events management to the film, music and entertainment industries.
"We are also seeing participants take advantage of overseas volunteer opportunities that fit into the university holiday period, such as the popular Summer Camp USA or Sports Coaching South Africa, which lasts from 5 to 12 weeks. All our volunteer projects are carefully selected to ensure that participants make a really positive contribution to the community."
Competitively priced, BUNAC programmes start at just £295 for eight weeks in the USA on a physically challenging conservation programme set in some of America's most spectacular natural areas, such as Arizona, Utah and Nevada. This covers airport transfers, orientation, accommodation and food during the project.
---
Further Information

For further information or to register for one of the BUNAC programmes, visit www.bunac.org.uk or telephone 020 7251 0662.