What to Consider before You Set Off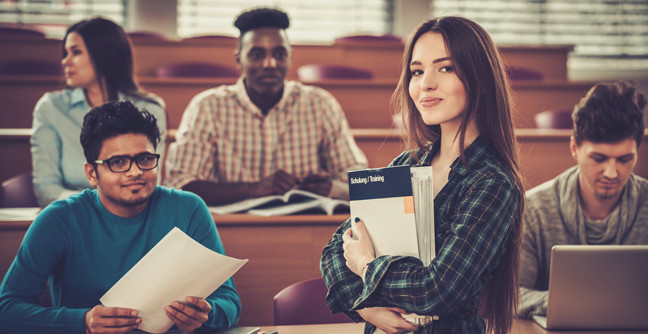 There are lots of things to consider when you're thinking about leaving your home country to study in the UK. The UK sees thousands of international students attending universities across the country every year because of the country's reputation for academic excellence.
Going to any university is a daunting experience for all students, but it can be an even more daunting experience when you're travelling to a different country to get an education.
Luckily, we've got a guide to the things you need to consider before you get on the plane so you'll have everything covered before you step foot on campus.
---
Start your research early
The key to getting off on the right foot at university is doing as much research as you can and this is even more important if you're going to university in another country.
The more you know before you leave home, the better you'll get on when you arrive in the UK. If you're lucky enough to have friends or family already in the UK, it's time to start asking them questions!
Your university should be the next port of call for information regarding the admission process, accommodation, and provisions in place for international students.
You'll also find plenty of information on what life is like for international students in the UK on the internet, so get yourself to Google.
---
Sort out your visa
Another thing to sort out early is your visa, if you need one. Previously, and currently, students coming from the EU do not need visas to study in the UK. However, as the UK recently voted to leave the EU, this could change in the future.
If you're coming to the UK from a non-EU country then you'll need a Tier 4 Student Visa. You can find more information on student visas on the government website.
---
Get ready for the weather
And everything else British… us Brits have some habits that international students will probably find baffling, such as our love of tea, but there are many things to love about the UK.
Just remember to pack your wet weather clothing!
---
Find somewhere to live
Once you've decided which university you want to attend and applied for a course then it's time to find somewhere to live.
The first place to look is your university. At many UK universities, accommodation priority is given to international students, but this isn't always the case so if you want to live on campus you'll need to apply early.
If you don't want to live in university accommodation, then your university will be able to point you into the direction of student letting agencies or private landlord listings.
---
Take care of your health
If you're coming from the EU you'll need to sort out a European Health Insurance Card (EHIC) or the equivalent in your country.
This card entitles you to free, or reduced, health care from the National Health Service (NHS) whilst you're studying in the UK.
If you're coming from outside the EU then you'll need to organise your own health insurance to cover your medical costs whilst you're in the UK.
---
Research bank accounts
Having a UK bank account makes it easier to pay your bills and purchase your day-to-day items. Specialist bank accounts for students often offer a better deal or useful incentives, but be aware that not all banks will offer a student account to international students.
---
Make sure your phone works in the UK
The last thing you want is to find you can't call home to speak to friends or family because your phone doesn't work in the UK.
Even if your phone does work in the UK, keeping your current SIM card means you'll probably be facing a hefty phone bill, so shop around for the best phone contract for cheaper international calls.
---
Think about student jobs
As well as bringing in some extra money, getting a job in the UK is a great way of immersing yourself in the culture of your new country.
If you're coming from the EU you're free to work as many hours as you like and if you're coming from a non-EU country you're able to work up to 20 hours per week.
---
Arrange financial support
Student finance for international students can be complicated and many international students are fully funded by their parents or private scholarships.
In other cases there are opportunities to be funded by the government from your home country, or for EU students, a tuition fee loan from the UK government.