How Can I Meet Other International Students?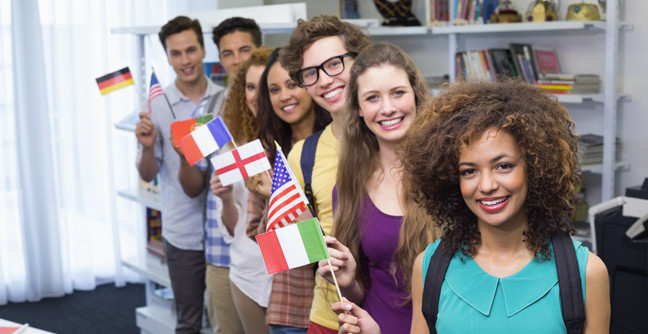 If you're coming from another country to study in the UK then you'll probably be just as excited as any other student heading to university. For all students, one of the most daunting parts of going to university is leaving their friends behind and having to form a new friendship group.
As an international student you might be even more concerned about this as you might worry that language and cultural barriers may get in the way. It can also be nice to be able to talk to someone from the same place when you're feeling homesick or baffled by some of the stranger British traditions and customs you'll discover.
However, you're sure to find your new university very welcoming and universities often put on special events and activities to help international students settle in to their new home.
Here are our tips to help you meet other international students and make some lifelong friends:
---
Start making friends before you arrive at university
Social media is a great way of making new friends before you've even arrived at university, or even to the UK. Many universities have set up Facebook groups specifically for their international students so that they can get a head start on meeting new people before term starts.
Sometimes these are organised by your country of origin and other universities simply have one group for all of their international students to join.
Do a quick search on Facebook or ask the international office at your university to send you the link to any Facebook groups they have set up.
---
Make the most of Freshers' Week
Freshers' Week is the ideal time to get out and make new friends, both from the UK and other international students.
As well as all of the usual Freshers' Week activities designed to introduce you to university life, you'll also find specific tours, activities, and events organised by the university for international students.
Try to attend as many of these as possible so you have plenty of opportunity to meet other students both from your own country and other countries.
---
Join clubs and societies
Universities often also have clubs and societies set up with international students in mind – for example, Durham University has an International Students' Association, which is a student run group who organise social and cultural events for the university.
---
Put yourself out there
Haven't found anything for international students that interest you? Then it's time to put yourself out there and create your own event.
This could be as simple as organising a casual dinner party for students from your country so you can enjoy traditional dishes you've been missing since you left home. Put up posters around the university and spread the word that you're looking to make some new friends.
If you're prepared for more commitment then why not approach your Student Union about creating a society for students from your country?
It might sound daunting but university is all about facing new challenges and pushing yourself to do things you might not have done before.