A Career in Nursing

Opportunities
Nursing is a fast changing profession, with fantastic opportunities to develop careers in a variety of areas. Nurses work with people of all ages:in roles which prevent ill health, as well as those which focus on managing illness. Nurses don't just work in hospitals - their role spans the community, working in patients' homes, or in GP surgeries, plus areas such as prisons, schools, workplaces and specialist clinics.
---
Specialise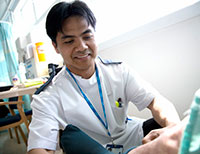 From 2013, nursing will become an all graduate profession in England, which reflects the levels of skill in nursing that we aspire to. There are numerous providers of nursing education across the UK who will equip you with the knowledge and practical skills to be a great nurse. Unlike some courses, nursing is very hands on and you will spend a significant amount of time in a health care setting from an early stage.
You can choose to specialise in either adult, learning disability, children's or mental health nursing, but throughout the course you will gain experience in all areas through placements, backed
up by theory and assignments undertaken through a higher education institution. 
Once qualified, the sky's the limit on how far you can develop your career. Many nurses choose to remain clinically focused - managing a caseload of patients or running a nurse led clinic for example.  You could progress to the role of Chief Executive, managing a large trust providing services to thousands of patients.  Nurses also develop careers as lecturers in further and higher education or in research roles. Today, many nurses also work outside the NHS in areas such as independent care homes, private hospitals and hospices.
---
Diversity
There is huge diversity in not only the work of nurses but in their backgrounds. Nurses come from many walks of life, bringing a wealth of experience. It is also a career that can take you around the world, for example as a defence nurse working in combat zones across the globe.
Stuart Young is a nursing student about to finish his final year. He says: "I wanted to become a nurse because I'm passionate about helping and care for people. I'm just about to qualify and have enjoyed the last three years immensely. I think the fact that the course is fifty percent work placements really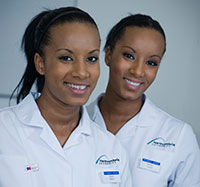 helps you understand what you'll be doing when you get a 'real job'. During my various placements I spent time in theatres, on wards and in the community. Nursing isn't for everyone and requires a fine balance between the art of caring and science of clinical skills, but I can honestly say it is an incredibly rewarding profession."
For more details about Nursing as a profession, see our short introduction Why Study Nursing here.
---
More information on careers in nursing, courses and funding is available at:
NHS Careers England
---
NHS Careers Northern Ireland
Careers Advice
School of Nursing
Queens University of Belfast
1-3 College Park East
Belfast
BT7 1NN
Tel: 028 9097 2233 or 028 9097 2233      
E-mail: nursing@qub.ac.uk
or
Careers Advice
Department of Health Sciences
University of Ulster
Jordanstown
Newtonabbey
BT37 0QB
Tel: 08 700 400 700
Web: http://prospectus.ulster.ac.uk/
---
NHS Careers Scotland

For general information about careers in Scotland
Tel:  0845 8502502 or 0845 8502502      
Web: http://www.infoscotland.com/nhs/
For information about studying in Scotland, please contact:
NHS Education for Scotland
91 Haymarket Terrace
EH12 5HE
Tel: 0131 313 8000
Web: http://www.nes.scot.nhs.uk
Email: west@careers-scotland.org.uk
---
For careers information contact:
National Leadership and Innovation Agency for Healthcare
Email: nhswalescareers@nliah.wales.nhs.uk
Web: http://www.wales.nhs.uk/sitesplus/829/page/36090