Why Study Medicine At University?

Why study medicine in the UK?
Studying medicine at one of the 33 UK medical schools is a highly popular choice, with around three applicants for every medical school place. This is because medicine offers so much in terms of personal fulfillment, financial rewards, job security and career progression, with many consultant and GP salaries exceeding £100,000 per year.
---
Why study medicine: because it leads to a great career
Studying medicine at university almost guarantees you a job at the end of your course. Trained doctors are in great demand, both here and overseas, so it is unlikely that you will have trouble finding work. Studying medicine also puts you on a well established career path, with two years foundation work post graduate, before you specialise.
---
Why study medicine: because it gives you so many options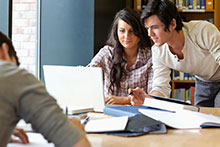 Once you have done your medical degree, and completed your two years foundation training, studying medicine allows you to specialise in whatever field interests you – and there are so many to choose from. You can become a specialist in surgery, children's medicine, heart, lungs, the digestive system or any other area of medicine that interests you. Not many careers offer you this range of opportunities.
---
Why study medicine: because it is fascinating
Studying medicine is a fascinating experience, especially if you have an enquiring mind and a love of the sciences. Finding out how the human body works in intricate detail, and how to put it right when things go wrong, is a highly fulfilling way to use your intellectual abilities and your personal skills.
---
Why study medicine: because you can make a difference
By studying medicine and becoming a doctor, you can make a real and positive difference to people's lives. That may be by helping them with minor ailments as a GP, or it may be through treating and preventing malaria in Africa. Whatever branch of medicine you end up in, no two days will ever be the same, but every day will make a difference in a way that few other jobs ever do.
---
Why study medicine: because you have the skills
Success in studying medicine is down to much more than just science smarts. You also need to have the right kind of personality too. You need sympathy and empathy with your patients, a desire to understand and help people, a problem solving, imaginative approach, and the ability to work long hours under pressure. If you have all these skills, and the academic excellence to back them up, then you will really enjoy studying medicine at university.
---
Why study medicine: because you'll get financial help from the NHS
When you study medicine at university, you'll get financial help from the NHS. Not only will they pay your fees after four years, but you may also qualify for a £1,000 per year grant and a means tested bursary under the NHS Bursary scheme. If you want to practice medicine in the armed forces, you could even get paid in your final years of study in exchange for a commitment of around seven years service.