Studying Medicine: An Overview

Studying Medicine
Studying medicine is one of the most popular and most prestigious university options in the UK, with over 21,000 students applying every year. Studying medicine at university is the first step towards a career as a doctor, surgeon, GP or consultant, and can lead to excellent prospects and a highly rewarding job, both personally and financially.
---
Where can I study?
The UK has 33 medical schools, most of which are based at high-ranking universities. You can also study at medical schools based in major hospitals, including Bart's & The London School of Medicine, Guy's & St Thomas' Hospital in London and the London School of Hygiene and Tropical Medicine. University medical schools all have strong links with one or more local hospitals, where you can spend time on work experience and clinical placements while studying medicine.
---
How long is the course?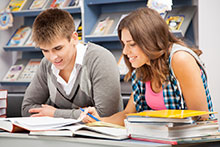 Studying for a medical degree takes at least five years, with some courses adding a sixth year for a compulsory intercalated degree. If you don't have the right A levels, then you may need to do an additional foundation year. If you are studying medicine as a graduate, you may be able to complete your studies in just four years on an accelerated course, with shorter holidays.
---
How is it taught?
Studying medicine can be done in one of three ways, either through problem based learning, which involves self-led study, traditional learning, with lots of lectures and formal teaching, or through integrated learning, where you experience lots of direct clinical exposure from early in your course. You should explore each method to see which way of studying suits you best before choosing your medical school.
---
Is it right for me?
Studying medicine is not an easy option. You will need to work harder to get the grades you need to gain a place studying medicine, and work harder than your fellow students once you are at university. Studying medicine attracts the cream of the crop of UK students, so you will need to be at the top of your game throughout the course if you are to keep up and do well.
Studying a medical degree also involves many personal skills as well as academic ability. You need to be sure that you have the right temperament and thought processes before you commit yourself to the course. You can see if you are the right kind of person for studying medicine by taking the UKCAT test online. This costs £65, but will often be asked for by university medical schools, so it's well worth doing in advance.
---
Where to start?
If, having weighed the pros and cons of medicine, you decide that studying medicine is the right way forward for you, you need to apply through the normal UCAS application process. It is worth noting, however, that applications for studying medicine close much earlier than they do for other subjects, and the closing date for studying medicine in 2014 is October 15th 2013.