Paramedic Science

Paramedics are usually the first medical professional to attend the scene of an accident or emergency. Usually they'll work as part of a two personal ambulance crew, with an ambulance technician, or with an emergency care assistant.
As well as assessing the patient's condition a paramedic will also administer essential treatment and/or use specialist machines such as defibrillator or intravenous drip.
You could be called out to a variety of different situations from someone having an accident in the workplace to an elderly person becoming injured or unwell in their home.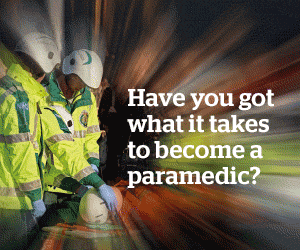 Strong team work skills are essential as you'll be working closely with other paramedics, doctors, nurses, and other healthcare professionals. You'll also find yourself in situations where you'll need to be able to calmly deal with distressed family members, friends, or members of the public.
Once you've graduated from your paramedic science degree there are plenty of opportunities for career progression. Further experience and training will enable you to become a senior paramedic where you'll work in a number of environments.
---
Why study Paramedic Science?
As a paramedic you'll be on the front line of medical emergencies and you'll be in for an exciting, rewarding career.
Paramedics are highly skilled, resourceful, and resilient so you'll need to choose a Paramedic Science course that prepares you for your future job role.
As well as being a paramedic there are a number of other roles that you could choose after graduation. These include further study to become an advanced paramedic, a management role, training and education roles, and specialist clinical roles such as an emergency care practitioner.
Of course, you call also choose whether you want to work within an NHS role or in the private/independent sector.
After graduation you'll need to register with the HCPC to be able to practice as a paramedic.
---
Which universities offer a Paramedic Science degree?
Being a paramedic is demanding and challenging so Oxford Brookes works closely with the ambulance service to ensure that Paramedic Science students get excellent workplace training throughout their course.
Oxford Brookes
The course meets the College of Paramedics curriculum guidelines and the Health and Care Professions Council (HCPC) standards of proficiency. Students have the chance to learn in a variety of settings including the Oxford Academic Health Science Centre.
Birmingham City University
This course allows you to spend a significant amount of time in work placements so you'll have plenty of real life experience as well as classroom based learning throughout your course.
University of Hertfordshire
This course is the first in the UK to integrate full paramedic training to HCPC standards within a fulltime degree course. You'll be fully equipped with all of the knowledge and clinical assessment skills you'll need to be successful in your future career.
---
What next?
The Paramedic Science degree is a highly popular course so you'll need to be at the top of your game to get a place.
That's why we've got so much great information, advice, and guidance for every aspect of your application and journey to university. Check out our UCAS application advice, personal statement examples, and more.