The ApplytoUni guide to studying a French degree

Looking to study French?
If you've got an interest in foreign cultures and an aptitude for languages studying Modern Foreign Languages (MFL) to degree level can be rewarding and lead to a wide variety of careers.
French in particular will make you valuable to many of the world's top employers and you'll get the chance to immerse yourself in a country that has been influential in the way the world has changed and developed throughout history.
Most universities offer French as a degree subject and some will allow you to take a joint honour to combine your language skills with another of your passions or specialisms. For example, French and Business Management or French and Law are popular combinations for those wanting an international career.
Language courses are typically longer than a usual degree course taking four years with one of those years spent in a country that speaks the language you're studying. Not only is this an invaluable learning experience but it also looks good on your CV and to future employers.
Here's our guide to everything you need to know about studying a French degree:
---
Why study a French degree?
With a rise in students applying to study languages such as Mandarin, Arabic, and Russian over French you might be wondering what this language has to offer you. Although French might not be spoken as widely as the languages listed above it is still a very important language if you're planning on working for international organisations such as the European Union or the United Nations.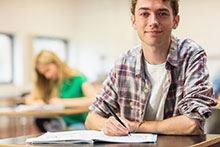 Plus, studying French is about so much more than just the language, its history, and its development. A French degree will give you an in-depth view of France, its history, culture, literature, politics, business, and economics.
You'll also get the chance to study dialects spoken in more rural areas of France and in other French speaking countries such as the Caribbean, Africa, and Canada.
---
Top 10 universities that offer French degrees
As we said above, most universities offer French, either as a standalone degree or as a joint honour. This means that there is plenty of choice and you should be able to find a university that offers exactly what you want in terms of academic study and university experience in general.
However, there is a lot to be said for aiming for the top and if you want a degree that's respected by employers then it's worth applying to those universities that are ranked in the top 10 on the league tables.
If you've been trying to decide which universities to apply to then here are the top 10 universities to study French at:
1. Oxford - Scoring 4.24 out of five for student satisfaction
2. Durham – Students have an average of 537 UCAS tariff points on entry
3. Cambridge – Scoring 2.65 out of four for quality of research undertaken in the university
4. Warwick – Scoring 74% for graduate employability prospects
5. Bath – Scoring 97.3% overall
6. King's College London – Scoring 4.14 out of five for student satisfaction
7. St Andrews – Students have an average of 503 UCAS tariff points on entry
8. Edinburgh – Scoring 3.94 out of five for student satisfaction
9. University College London – Scoring 2.55 out of four for quality of research undertaken in the university
10. Southampton – Scoring 4.33 out of five for student satisfaction
Obviously there are plenty of very good universities after these, and they are all worth considering depending on what else you want out of a university. Choosing a university purely because it is at the top of league tables isn't a good idea. Your choice of university should be entirely individual and it's important to think about what you want from your university experience before making your final shortlist of universities to apply to.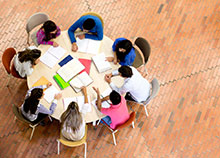 The best way to gauge whether a university is right for you is to attend their open day and try to spend some time in the local area, if you live closely enough to allow this. An afternoon, or even a weekend, exploring the town or city will show you whether it has all the shops, facilities, and amenities you want from a place that you'll be living in for three years.
---
International study opportunities
Most language students often cite the chance to spend a year studying, living, and working abroad as a major factor in their decision to study languages at degree level. Whether you've been to your host country or not you're sure to be in for a good time once you get there!
Food, way of life, national holidays, political campaigns, and of course, tourist attractions are all new things to see, eat, do, and experience whilst studying abroad. You'll also have the opportunity to make new friends and perhaps set up the chance of getting a job after graduating. You never know, you might like it so much you don't want to come back!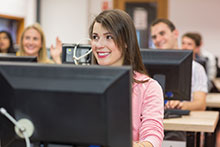 For some degrees you'll find that the year abroad is a compulsory part of your degree, others offer a reduced period of foreign study, and some Scottish institutions offer a five year degree with extended foreign study.
Studying abroad not only gives you a chance to speak the language to native speakers but it also gives you a more in-depth view of the country, its culture, and the way the language changes across different regions.
International study shows potential employees that you're independent, capable of dealing with changing circumstances, and are ready to take on new challenges.
---
Career prospects
The possible career prospects for a French speaker are endless. Most commonly careers include teaching, translating, interpreting, and working with the economic, business, or financial sectors.
Teaching and interpreting works both ways in that you could both teach your degree language or teach English to those who speak the same language as your degree subject.
You could also find yourself working in international diplomacy, the charity sector, the armed forces, the security services, journalism, law, accountancy, and many other industries.