Why Apply for a Surveying Degree?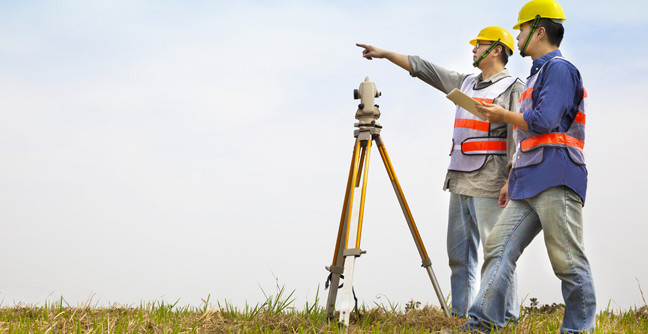 There are various types of surveying career available, making it one of the most diverse fields for graduates to get into. For example, you could be a building surveyor, quantity surveyor, or land surveyor.
Surveyors work in a variety of different settings, so no two days are the same. These settings include: people's homes, the sea bed, roads and motorways, collectables and large construction sites. As a surveyor you'll also be responsible for the protection of the environment in which you are working.
Here's more about these areas of surveying and we'll answer the all-important question – why apply for a Surveying degree?
---
Building Surveying
If you're interested in buildings and would enjoy identifying technical problems, finding solutions and giving technical or legal advice as part of your daily role, building surveying could be for you. Building surveyors are involved at the design, planning and construction stages of building projects and also work in property management and the conservation of historic buildings.
To be a building surveyor, good problem-solving skills are a must. You'll also need strong communication and presentation skills, as well as the ability to understand your client's business needs.
To qualify as a building surveyor, you will need to complete a Surveying/Building Surveying degree course accredited by the Royal Institution of Chartered Surveyors. 
---
Quantity Surveying
If you're interested in the business and finance aspects of building, then quantity surveying could be for you. As a quantity surveyor you'll manage the costs relating to building and civil engineering projects.
Quantity surveyors must be highly numerate, commercially aware, professionally trained and great at communicating. This career requires a combination of technical, financial and legal knowledge.
If you're considering becoming a quantity surveyor, there are a couple of routes into the profession. Most people complete a degree, followed by a period of training within a relevant organisation.
However it is also possible to train on-the-job with the help of professional bodies, such as the Royal Institute of Chartered Surveyors or the Chartered Institute of Building, if you're still undecided about university but you know you want to be a surveyor. 
---
Land Surveying
Land surveying is an incredibly varied job that uses a combination of traditional instruments and digital technology to measure the shape of the land and gather data for civil engineering and construction projects.
As part of your role you could be involved in a variety of projects ranging from building roads and tunnels to mining and quarrying. You could also specialise in mapping inshore and offshore features, known as hydrographic surveying.
If you are looking for a job with lots of variety, you enjoy solving problems and you have good maths and IT skills, a career in land surveying could be for you.
---
Why apply for a Surveying degree?
If you're still unsure that one of the above roles, or any of the other surveying roles is for you, here are seven reasons to study a Surveying degree:
1. You'll have a professional and well respected career
Once you've graduated you can join the Royal Institution of Chartered Surveyors and use the AssocRICS designation after your name, demonstrating to clients and other professionals that you work to the highest professional and ethical standards. 
2. There are excellent salary prospects
A career in surveying and valuation can be very lucrative if you're ambitious and starting graduate salaries are roughly £23,000 per annum. You can also work towards Chartered status when you want to command a higher salary.
3. There are high demands for surveying services
You're unlikely to ever be out of work as the industry is facing a worsening skills shortage, and properties are being bought and sold every day, meaning that surveying services are always in demand. 
4. You'll have flexible career opportunities
Surveying is a valuable skill-set to have in the property industry and there are plenty of opportunities to learn new skills so you can offer other services to your clients.
5. Every day is different
As we've said above, surveying is an incredibly varied role so if you want a career where no two days are the same, a career in surveying is perfect. Each project will be different so you'll need to be on the ball and use all of the skills you'll learn during your degree.
6. You'll have the opportunity to specialise e.g. listed and historical buildings
Once qualified, you'll be able to turn your attention to the specific areas of surveying that fit your field of interest. You can then become a specialist and advertise your service to build a solid reputation and client base within the industry. 
7. There is the option to be self-employed or employed
If you've always fancied being self-employed then you'll be able to do this once you're qualified. Alternatively you can work through a panel or firm.