Primary Education Courses – Is Teaching For You?

Training to be a teacher
Training to be a teacher in primary education involves developing the ability to teach a broad base of subjects, without necessarily specialising in any one area. Many institutions offer specialist primary education courses and most primary teacher training takes the form of a Bachelor of Education (BEd) degree, rather than a first degree in a specialist subject with additional teacher training (which is more common for secondary school teachers).
---
What do primary school teachers teach?
Unlike secondary school, where specialist teachers teach a range of classes in one subject, primary school teachers tend to teach one class in a range of subjects in the national curriculum.
These subjects include:
Core subjects- English, Maths and Science
Non-core subjects- history geography, design & technology, information & communication technology, languages, art, music and PE.
You need to have a good grounding in teaching skills and a good general knowledge, being prepared to research topics you are teaching as you go along.
---
Specialist primary education courses
Primary teaching degrees combine a study of the curriculum subjects, with the learning of teaching techniques, both at the university and in the workplace. Around a third of your BEd will be spent on teaching practice (24 weeks minimum), and you will usually have a professional mentor to guide you in your school placements.
Your BEd primary education course may offer the opportunity to develop your skills in a certain area, with the aim of becoming a subject leader at your school, but you will still need to have a broad base from which to teach the entire curriculum.
A BEd in primary education will automatically gain you Qualified Teacher Status (QTS), although you will still need to complete a compulsory induction year after graduating.
---
What qualifications do you need for primary education?
You will clearly need to be an all rounder, with a broad range of qualifications at GCSE and A Level, to succeed in primary school teaching. The entry level is often high, with average offers of BBC or BBB at A Level. What's more, because primary courses are very popular, university admissions teams will be looking beyond just your educational qualifications.
---
Other skills required for primary education
Pastoral care is a big part of primary education as young people develop in their formative years, and your chosen college or university will want to see evidence of interests and experience that are directly relevant to the role of primary school teacher. This not only includes work experience and/or time spent in schools, but also other experience with children outside of the classroom that shows that you have the personality and communication skills needed to teach small children.
---
How to apply for a primary education course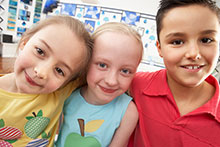 Applications for BEd degree courses in primary education are administered by Universities and Colleges Admissions Service (UCAS). You can find a list of universities and colleges offering primary education courses, and the Department for Education also has a wealth of information.