Top 5 UK Universities for Illustration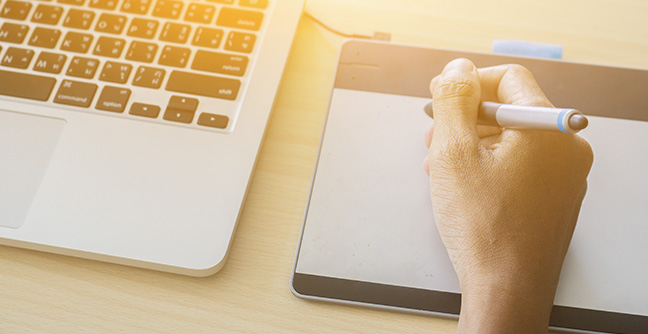 Creative courses are notoriously difficult to get offers for as thousands of talented students compete for places at the top UK universities in their particular course.
However, don't let that put you off applying. The more you know about the university, course, and application process the more chance you have of being accepted.
Here are the top five UK universities for Illustration to help you with your research during the university application process.
---
Falmouth University
Billed as "the Number One Arts university" Falmouth has a longstanding reputation for excellence in the creative arts.
Located in picturesque Cornwall The Falmouth School of Art boasts an enviable range of undergraduate courses, including Illustration, and helps students develop their skills that will take them on to successful careers.
The three year, fulltime Illustration course has a strong emphasis on professional practice and the real world applications of illustration. Students have the option of study visits to London and New York, the opportunity to work on live briefs and meet clients, lectures developing core business skills, and expert guidance in key industry software.
---
University of Brighton
Another university with a longstanding reputation among students and industry professionals for academic excellence, the University of Brighton offers a fantastic range of facilities for students.
Optional trips include New York, San Francisco, Berlin, and Amsterdam and courses are taught by accomplished illustrators to ensure that you learn correct professional practice as well as honing your skills.
A recent survey showed that 80% of Illustration graduates were in work or further study six months after graduation, proving that the university effectively prepares you for the wold of work.
---
Camberwell College of Art
Located in London Camberwell College of Arts has a reputation for being one of the best art colleges in the capital city, so if you're looking for a more cosmopolitan learning environment, Camberwell could be the right choice for you.
The Illustration course covers a range of topics, including graphic design and 3D design, and students have the chance to take part in work experience placements with companies which have included Adidas, Channel 4, The Guardian, and MTV.
Similarly to other universities, there are also opportunities for time abroad as part of the university's Erasmus programme.
---
Kingston University London
Another highly regarded university located in the capital city is Kingston University London who offer a popular Illustration Animation course.
Their three year, fulltime course gives students the chance to work individually, as a team, or collaboratively to develop skills to be used in the workplace after graduation.
Study trips include opportunities in international destinations such as Berlin, New York, Florence, and Venice.
---
Loughborough University
The final university ranked highly by students and professionals a like is the Graphic Communication and Illustration course at Loughborough University.
The state of the art facilities allow students to produce industry standard work and you'll be given professional training to ensure you get the best out of the facilities on offer.
Work placements include working with companies such as Blue Peter, Ford, Abercrombie & Fitch, Swarovski, and Mercedes Benz.
International study trips are offered in destinations including San Francisco, Singapore, St Petersburg, Milan, Paris, and Valencia.