The Arts Definitive Study Guide

Studying The Arts
Studying the arts at university takes real talent and dedication, often above and beyond that required for more conventional courses, such as the sciences or engineering. You need to be a self-starter and to be able to motivate yourself to work independently and creatively. But once you have graduated, an arts degree leaves a huge number options open to you, giving you a wide choice of careers on graduation. The arts trains your mind as well as giving you practical skills and that provides a very attractive mixture for any employer. 
But what is an arts degree, why should you consider an arts degree, where can you study the arts at university, and what will you gain from the experience?
---
What are the 'arts'?
The 'arts' tends to be a catch all phrase for a wide range of creative disciplines, and there are as many definitions as there are different arts colleges.
For some, the arts are restricted to fine art, such as painting and sculpting.
Others will see the arts as an extensive sector, which encompasses everything from fine art to media and broadcasting.
An even broader definition is often used that also includes the humanities, creating the two divisions of study that are reflected in the Bachelor of Arts and Bachelor of Science degrees.
Subdivisions within the arts include fine art, performing arts, communications and fashion. You can also extend the definition of the arts to include literary arts, such as creative writing, poetry and English Literature as well as music.
You could also include more academic subjects such as the history of art.
In some cases, the arts cross over with more mainstream subjects, such as graphic design with IT, or architecture with civil engineering.
For the purpose of this article, we shall consider studying 'the arts' in the narrower context of art and artworks. For example:
Fine art
Fashion
Interior design
Sculpture
Textiles
Graphics
Architecture
Photography
Animation
You can study for a range of qualifications, from a Foundation Diploma, through a Bachelor of Arts (BA) degree, to a higher Master of Arts (MA) degree.
---
Why study the arts at university?
In the current political climate, where schools are judged by league tables and exam results, the arts can still be seen as a distraction from the more 'academic' subjects. Students keen on arts subjects become frustrated that their school lacks the facilities or teaching staff needed to develop the arts as a serious subject of study. This can all be very frustrating if you are passionate about the subject but stay motivated because when you get to the next level, everything changes.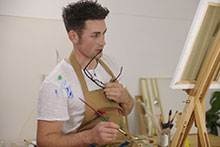 By studying the arts at university, you will find yourself surrounded by like-minded students who share your passion. You will enjoy excellent facilities and equipment to help you develop your talents, and learn from experienced lecturers who have incredible talent of their own.
Choosing an arts subject will mean you will be part of a vibrant creative community, where you can bounce ideas around and learn from each other. Your 'arty' tendencies will no longer be mocked and put down in favour of 'serious subjects', but will be celebrated and developed in a way that they rarely are at school.
As designer Sir Terrance Conran, a graduate of the University for the Arts says: "The UK is viewed as the most creative nation in the world", so where better to study the arts?
---
Choosing your university arts course
While you may have a talent in a particular field of the arts, it is unlikely that you will have been given enough opportunities or experience at school to be sure of your specialism when choosing to study the arts at university. For this reason, many university arts courses will offer a foundation or introductory year to help you to decide. This is an incredible opportunity to test out your skills and interests and push out your own personal boundaries.
These first year courses are designed to give you the chance to try a wide range of different media and art forms, to help you pick which direction you want to take your studies. Many students discover new talents, interests and inspiration during this year, especially when they try areas that they have not previously studied, such as sculpture, photography or spatial design. This course structure means that you do not have to make any big decisions right at the start. You can begin with a general foundation course and see where your interests lead you.
Even if you do have a particular field of study in mind, such as fashion, your first year will still give you a broad overview before allowing you to choose your specialisms. Performing arts and media courses often follow a similar structure, showing you a broad range of opportunities before asking you to make up your mind on a particular area of study.
---
Choosing your arts university
A large number of UK universities offer arts courses and these tend to fall into two categories. Art departments and art schools within universities have been formed like any other university department. In many cases, however, university arts schools have been created by incorporating local art colleges, such as at Loughborough University, or formed by the amalgamation of several local art colleges, as is the case with the University for the Arts in London.
The University for the Arts comprises a number of famous London art colleges, who have come together to combine the excellence of leading individual art colleges, with the university experience that comes with attending a larger institution. With 18,678 students The University for the Arts is Europe's largest specialist arts and design university, offering a wide variety of courses, and should not be confused with the University for the Creative Arts in Farnham in Surrey.
The University of the Arts comprises:
Camberwell College of Arts
London College of Communication
London College of Fashion

---
UK universities that specialise in the arts
A number of UK universities have specialist departments or schools of art, including:
Birmingham Institute of Art and Design (at Birmingham City University)
De Montfort University - Faculty of Art and Design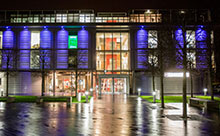 Loughborough University School of Art and Design
Norwich University College of the Arts
Oxford Brookes University
Plymouth College of Art & Design
Slade School of Fine Art (at University College London)
University for the Creative Arts
University College Falmouth
University of Hertfordshire
University of Northampton
University of Salford
University of Cumbria
UWIC, Cardiff
You can also study the arts to degree level at a number of independent arts schools and colleges, such as:
Glasgow School of Art
Hereford College of Arts
Leeds College of Art
These bodies will award degrees that are verified and validated by local universities or by the Open University.
Many arts based universities and art colleges are part of the Guild HE Group, which represents their interests across the academic world, including lobbying at government level. The Royal College of Art is also a world leading art institute, but currently only offers post-graduate studies.
---
Applying to study arts at university
Applying for an arts course at university will be somewhat different from other university applications. Naturally you will be required to gain the appropriate qualifications at A Level, such as art or graphic design, and you will need to demonstrate the broad educational foundation needed to study to degree level. However, you will also need to show your talent too, by assembling a portfolio of your work.
Many universities will ask to see a mini-portfolio in digital form with your application, followed by a full portfolio presentation if you are chosen for interview. It is important to construct this portfolio carefully to showcase your talent, as this is one of the most important entry criteria. Do not be tempted to pad out your portfolio with lots of irrelevant, substandard work, just to make it appear more comprehensive. A few pieces of well chosen work will have far more impact on their own, than they will be hidden amongst everything you have ever done.
Always check carefully with your chosen university or art college to make sure you have met their portfolio criteria. This may be different for each institution, so be prepared to adapt your 'book' to suit each interview.
---
An arts degree is no 'easy option'
Studying the arts at university is by no means an easy option. You may not have to spend as many hours poring over textbooks at the library as an English student, and you may not have to sit as many formal exams as a physicist, but you still need to work incredibly hard to succeed.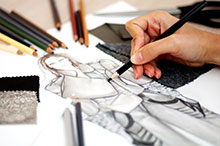 Gaining a place studying art at university will put you in competition with the very best young artists in the country, and you will have to stay at the top of your game, learn fast and constantly develop your skills, if you are to keep up.
While there may not be the same pressure of end of year exams like those on other courses, you will still have to produce a large number of works, shows and performances throughout your course, which will be judged to exacting standards.
In some ways, studying the arts at university can be harder than a traditional 'academic' course. While you can always cram for an exam and force the facts and formulas of a science into your head, you cannot cram for the arts. There are no short cuts to working hard to develop your skills and learn your craft.
---
What you'll gain from an arts degree
You will obviously learn a lot about the arts in general and about your chosen art in particular, when you study the arts at university. You'll learn theory and practice, tips and techniques, and get the chance to try different media and different approaches to your art. However, you will also learn a great deal more besides. Arts students are taught to understand and appreciate the world around them. Studying the arts at university will teach you how to think critically and analytically, looking below the surface and beyond the obvious.
Studying arts at university will also teach you how to communicate, giving you the confidence to express yourself clearly and get your message across, whether that's directly, through graphic treatments, or more subtly, through art works or performances. These are all very valuable skills to have, whether you end up working in the arts or in a totally unrelated field.
---
Careers in the arts
You may turn out to be one of the fine arts graduates make a career out of being an artist in the way that Damien Hurst or Tracy Emin do, but even if you don't achieve national and international fame, you can still find a huge range of work possibilities within the arts. From directly curating and managing the arts in galleries and theatres, to running local and national arts programmes, arts jobs reach far and wide into society. There's also a wide range of opportunities for the arts in advertising and marketing, as well as in new media such as website design and apps.
Many employers appreciate the training that an arts degree involves when it comes to imagination, problem solving and seeing the world in a different way. An arts degree can be the launch pad to a career in teaching, media, marketing and many other sectors where creativity is valued over straightforward knowledge.
Here are a few of the more lucrative careers that you might consider once you've studied arts at university:
Become a graphic designer: Demand and salaries are rising every year at the moment.
Get into acting: It's not all Hollywood. The expansion of television productions and live performances has created a larger number of opportunities in the last few years.
Consider animation: Combining technical and IT skills with an artistic flair is necessary for the animation used in films, games and apps.
Write on: The internet has provided massive opportunities for people who want to write – and if you can turn your hand to blogging and writing about your specialist arts subject, so much the better.
Building design: Being an architect will take further study but artists and creative minds can help architects to achieve real vision in their plans.
Interior design: Along the same lines but interior designers don't need quite the same technical skills. People and big companies will pay substantial amounts of money for people with a good eye for design and layout for homes and corporate HQs.
Think about designing the landscape: Garden designers are flourishing at the moment and you can subcontract the muddy bits to someone else.
Museum curators: If you are artistic and have an interest in history and heritage, this could be the ideal career.
Conservators take things one step further: working at an art gallery or museum doing nothing but restoring great works of art requires knowledge of artists' methods, an eye for composition and great technical skill.