Why Study in the UK?
Studying at a University in the UK
Think "the world's your oyster"? In reality, when students who want to study abroad think about where they might go, there are certain institutions, countries and courses that stand out and are far more popular than others. The UK in particular remains highly sought-after for foreign students. So why do students choose the UK over other countries?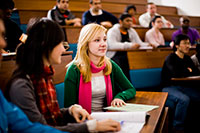 UK institutions do not charge the highest tuition fees to international students, on average. And despite what you might have heard in the press, the planned rise in UK fees will only affect UK and EU students. Living costs in the UK are also cheaper than countries such as the US, Australia and the Netherlands.
The British Council, the organization charged with promoting UK Higher Education overseas, conducts an ongoing survey of international students potentially interested in studying abroad. The top three more important reasons chosen for choosing to study in another country were:
---
A better quality of education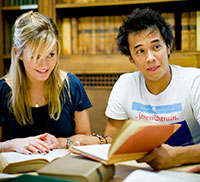 Teaching methods in the UK are a big draw for international students. Most courses in higher education are taught in a mixture of large groups (lectures) and smaller groups (seminars), and international students are often surprised to find they're encouraged to question; discussions are welcomed, and most students find they enjoy learning in this way. Schools and colleges use a mixture of classrooms and technology-equipped learning spaces for their teaching, and students are similarly encouraged to question, discuss and respond.
The high status of UK qualifications is recognised worldwide amongst employers and students themselves. In a recent survey, 83 per cent of higher education students said they were satisfied with their course. In response to the findings, Pat Killingley, Director of Higher Education at the British Council, commented: "This is fantastic news for international students considering studying in the UK … UK colleges and universities are listening to their students and striving to improve standards."
---
Increased employment prospects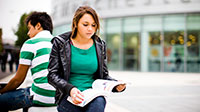 Universities, colleges and schools offer work placements and on-the-job training to encourage young people to gain experience before entering the world of work. The opportunity to participate in internships is a real incentive to international students: they find they have a significant advantage over their competitors when it comes to finding a job in the UK, their home country or elsewhere.
---
A cultural experience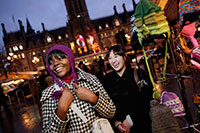 The bursting energy and fascinating heritage of the UK are two other reasons why young people choose to study in the UK. Its tolerant, multicultural society helps to bring excitement, fun and creativity to the student experience.
Museums and galleries feature in most UK cities, as do theatres and cinemas. Music is a big part of UK culture, and many big-name or independent artists play at universities or colleges. The mountains of Scotland and Wales, the rolling hills of the Lake District, the Yorkshire moors and Northern Ireland - as well beautiful stretches of coastline - all offer an incredible landscape for outdoor activities.
The UK's proud tradition of delivering in each of these areas means it continues to rank in students' top choices when choosing to study overseas.