Why Study in Liverpool?

Why study in Liverpool?
With over 62,500 students (30,000 at the University of Liverpool, 25,000 at John Moores University and 7,500 at Hope University) Liverpool is one of the most popular student cities in the UK. So what is it that attracts so many students every year and what can Liverpool offer students that some other locations can't?
The answer is pretty much everything you could want, from an affordable and exciting nightlife, to world-class sport and leisure, not to mention the largest number of museums and galleries outside London and unrivalled transport links, all packed into a city that takes just twenty minutes to walk from end to end.
---
Liverpool culture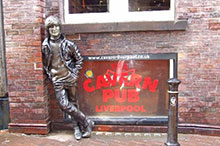 Liverpool is famous for its culture; as the birthplace of the Beatles, Echo and the Bunnymen and Frankie Goes to Hollywood, it has dominated the pop music world for decades. Today, the Liverpool music scene is alive and well, with countless clubs and smaller venues hosting the next big thing for just a few pounds a ticket. The city hosts a number of major music venues too, with the Echo Arena now a key stop on most international tours, and the Philharmonic Hall attracting the very best in classical music.
Liverpool also has a strong theatre tradition, including the Everyman, which started countless careers, from Bill Nighy to Pete Postlethwaite, plus the Empire, the Playhouse, the Royal Court and countless smaller venues. There are also countless comedy clubs hosting famous names as well as up and coming comedians, demonstrating the Scouse sense of humour that the city is so famous for.
---
Liverpool sport
At the heart of most Liverpool conversations is the rivalry between the two local football teams, Liverpool and Everton, who between them ensure that there is premier league action in the city most weekends. But it's not all about football; Liverpool is also home to the Grand National at Aintree, as well as numerous championship golf courses, with The Open Championship coming to Royal Liverpool in 2014.
---
Liverpool nightlife
Liverpool nightlife is vibrant, varied and above all, safe. From the multi-screen cinemas of Liverpool One and FACT, to the endless bars and clubs, cafes and restaurants in the city centre, Liverpool is always buzzing with people having a good time. And with everything within easy walking distance of most of the main student halls, there's no expensive taxi ride home afterwards.
---
Liverpool links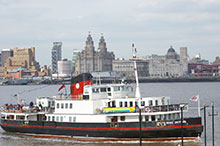 Liverpool couldn't be easier to get to by road, rail, air or even sea. Close to the north west motorway network, Liverpool is just 45 minutes from Manchester and 20 minutes from the M6. Mainline trains take just over 2 hours to London, and the city even has its own underground to get you around.
EasyJet flights from Speke can get you to Europe for silly prices if you book in advance, while ferries from the dock will take you to Ireland and the Isle of Man. And don't forget the Ferry 'cross the Mersey made famous by Jerry and the Pacemakers.
---
Liverpool living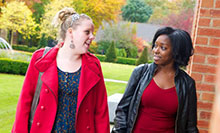 Liverpool has plenty of student accommodation, both university run and in the private sector. JUM has 3,200 beds in student halls, Hope has 1,200 and the University of Liverpool a further 4,500. There are also privately run student halls and a host of shared houses and flats close to the city. Together this creates a thriving student community and a very safe and secure feeling.
---

Liverpool John Moores University
Liverpool John Moores University (JMU) is the second largest in the city and features three campuses and over 200 undergraduate courses. Liverpool JMU has a strong focus on the world of work after your degree, with their flagship 'Dream, Plan, Achieve' programme getting over 94% of graduates into work or further study within six months.
JMU has an excellent reputation in the arts and media, with cutting edge facilities including broadcast standard TV studios. It is also strong in the life and social sciences. JMU's modern libraries are particularly impressive, both within easy reach of the city centre, and it also has a popular student union.
Follow Us:




---

Liverpool Hope University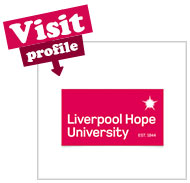 Liverpool Hope is an ecumenical university, run on Christianprinciples, but it welcomes students of all faiths (or none).
It has two campuses, the Creative Campus in the city centre and Hope Park four miles away. Over £60m has been invested in recent years across the two campuses.
Hope offers a range of courses in education and the creative and performing arts, with a student body that is 2/1 female/male. Liverpool Hope prides itself on developing the non-academic skills of its students, with a range of community and leadership projects both in the local area and overseas.
---

The University of Liverpool
The University of Liverpool is the largest university in the city, and while it may be one of the original 'red-bricks', it is not stuck in the past or stuck in an ivory tower. The university of Liverpool is investing over £100 million over ten years to update and improve its facilities, and is also giving 30% of its extra fee revenue back to students to widen access.