Why study in Dundee?

Studying in Dundee
With 19 universities in Scotland to choose from it could be quite a challenge to decide which one to apply to. If you're looking for a university that combines a strong cultural heritage with world class educational facilities then a Scottish university could be the right choice for you.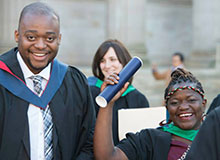 There are two universities to choose from in Dundee – the University of Dundee and Abertay University – both of which graduate more students into professional jobs than any other Scottish city. If you're looking for an education that gives you a vocational advantage over other graduates then studying in Dundee would be a wise move.
All of Dundee is currently undergoing redevelopment and rejuvenation worth millions of pounds so it's a really exciting place to live and study right now.
But what else do you need to know about Dundee before applying?
---

University of Dundee
The university was founded in 1881, becoming a college of St Andrew's University in 1897. Having gained independence in 1967 the University of Dundee now has over 200 undergraduate courses available and has a long established passion for top quality teaching standards.
If the opportunity for international study is important to you then there are plenty of courses at the University of Dundee that offer the chance to study abroad. Europe, the USA, Canada, Australasia, and Hong Kong are all possibilities when you're a student at the University Dundee.
All of the accommodation for University of Dundee students has been built or renovated in the last 10 years so you're guaranteed a modern, attractive, and comfortable living space.
As well as making friends with people on your course or in your student halls there are also over 70 different societies affiliated with the Student Union. If sport is your thing then you're in luck – there are over 40 sports clubs associated with the Dundee University Sports Union.
The city centre location of the main University of Dundee campus means that you're never far away from the action and there are plenty of part time job opportunities to be had.
---

Abertay University
This university really does mix the old and the new combining buildings such as the Edwardian Old College with the 21st century Student Centre. Just like the University of Dundee, Abertay University's central location means that you can experience the buzz of city life.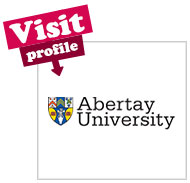 As well as top class teaching standards the university is also home to several world leading research teams – being ranked as the best university in Scotland for environmental research.
Accommodation is guaranteed for all first year students who apply by the UCAS deadline, 30th June 2014 in case you've forgotten! There is some brand new, purpose built student halls so you'll have a comfortable place to rest your head after a hard day in lectures.
For those of you that like to keep fit you'll be pleased to hear that there are 29 sports clubs at Abertay University that have achieved national and international success. There are also many societies for you to join and if you don't see something you like the Student Association is happy for you to create your own society.
---
City life
If you're looking for a university city that will give you plenty of opportunity for down-time after a long day studying then there are numerous clubs, bars, pubs, cafes, and both universities have excellent student union facilities.
There's a packed calendar of events held in the city throughout the year. You can go along to everything from the Dundee Guitar Festival to the Scottish International Film Festival for Children and Young People.
Love shopping? There are plenty of opportunities to do that in Dundee. As well as the High Street, Murraygate, and Wellgate centre there's the Overgate Centre. For those of you that want designer labels at low prices head to City Quay where a recent redevelopment has seen the introduction of factory outlets for designer stores.
Museums, galleries, parks, gardens, cinemas, and tourist attractions are all there to keep you entertained when you get a break from your books. Plus, if you've got a car then you're only a short drive away from some of the most spectacular scenery in Scotland.
---
Further Information
If you are interested in studying at a University in Dundee take a look at the following University profiles: