Why go to University in Northern Ireland?

Rise in Northern Ireland university applications
In 2012/13 Northern Ireland became something of a rising star in terms of university applications. Not only were home students and those from the European Union clamouring to study at the University of Ulster, Queen's University in Belfast or one of the six regional colleges in Northern Ireland, English, Scottish and Welsh students were also quick to see its advantages. This prompted record application levels and set a trend that is expected to continue over the next few years.
---
Northern Ireland: the financial attraction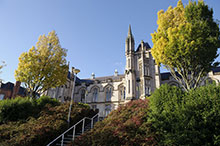 Northern Ireland provides strong financial incentives as a place of study, wherever you are from:
Home students, those resident in Northern Ireland or the EU (excluding England, Wales and Scotland), have most of their tuition fees paid, needing only £3,465 each year from a tuition fee loan that they will eventually pay back. That's around £5,500 less than the typical tuition fee loan needed to study in England.
The University of Ulster has capped its tuition fees for English, Scottish and Welsh students at £6000.00 per year, which is still an attractive financial incentive. Queen's University Belfast charges £9000 but has a system of scholarships that reduces most students' tuition costs to around £6500 each year.
It's no surprise that 16.3% more English students and 17.1% more Welsh students applied to Northern Ireland in 2012 compared with 2011, with over 2000 applications also coming from Europe this year. Inevitably, that increased competition, with two students fighting for each place available.
---
What's special about Belfast?
Studying in Northern Ireland may be good for your bank account but it also has plenty of other advantages:
Easy to get to: Northern Ireland is easily accessible from England, Scotland and Wales by ferry and the region has international airports that link it with mainland Britain, Europe and the rest of the world.
Solid academic credentials: the two main universities, the University of Ulster and Queens University Belfast both have excellent academic reputations and offer a huge range of full-time and part-time courses.
A vibrant learning atmosphere: The University of Ulster, for example, has 25,000 students, split between undergraduates and postgraduates. A further 5,000 study for University of Ulster degrees at other accredited centres, or by distance learning. The university, which is split over four campuses, has an above average research assessment and a very favourable student to staff ratio.
A fabulous place to live and work: Belfast is a stunning city, full of cultural and social highlights with exceptional sports facilities such as the Odyssey Complex in the Titanic Quarter and the £20 million centre at Jordanstown, both of which are part of the University of Ulster. T
Good investment in facilities: The University of Ulster is currently investing in a new Belfast campus, due to be completed in 2018, which will provide new space for 15,000 students in the city centre. Plans are also in place to extend the Magee campus in the north west of Northern Ireland, providing around 6,000 extra student places in the coming decade.
Close to the peace of the Irish countryside: Belfast offers a unique mix of bustling urban life with beautiful, unspoilt countryside and coast, just a hop, skip and a jump away. The University of Ulster North Coast campus is surrounded by over 300 acres of landscaped parkland and overlooks the Causeway Coast to the north and the hills of Donegal to the south.

---
What do student's think of uni in Northern Ireland?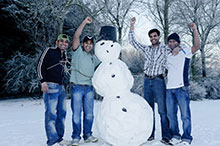 Perhaps the best recommendation to study in Northern Ireland is provided by the students of the University of Ulster who completed their degrees in 2011. The National Union of Students' survey revealed that 91% praised their tutors as being highly motivated and enthusiastic and 87% said they were extremely satisfied with their time there.