Studying in Cornwall

Study in Cornwall
When you are applying to uni, the choice of location is important. You may want to be near home or as far away as possible, or you may want to live in a specific place, such as by the sea or in a big city. If you are a fan of the outdoor life choosing one of the universities in Cornwall could be for you.
Cornwall is in the far south west of England looking out on to the Atlantic Ocean. It is famous for its coastline, great surfing beaches, Bodmin Moor, the South West Coast Path, Cornish pasties and cream teas. The area is rich in Celtic history with everything from Bronze Age standing stones to reminders of the Industrial Revolution.
---
Universities and colleges in Cornwall
Cornwall boasts seven universities and colleges:
University of Exeter
Cornwall College
Truro College
Cambourne School of Mining
Penwith College, Penzance

---
Combined Universities in Cornwall (CUC)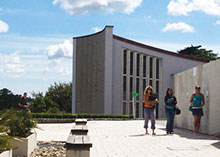 To encourage more people to come to Cornwall to study and also to give higher education opportunities to local people and businesses the universities and colleges listed above have formed the CUC partnership. This collaboration enables them to have a greater impact than individual institutions trying to work alone and has already managed to attract £260m from the EU and UK governments to transform higher education in Cornwall.
---
Cornwall has a lot to offer
With the CUC giving Cornwall's higher education institutions a bargaining power few other areas can boast, along with the range of courses on offer, the spectacular scenery, great opportunities for outdoor pursuits (whether adventurous, on land, water or simply on one of the many gentle walks or challenging hikes afforded by the South West Coast Path and Bodmin Moor), followed by delicious locally caught seafood and a live music performance at The Stannary, choosing to do your degree in Cornwall could be one of the smartest decisions you ever make.
---
Study opportunities in Cornwall
With six universities and colleges covering 13 campuses you're bound to find the right course for you somewhere in Cornwall.
The £260m funding CUC has secured for higher education in the county means that the facilities available here are amongst the best in the UK.
Cornwall's campuses are small compared to some other UK institutions, but that can be an advantage if you don't want to get lost in the crowd.
Many of the courses offered in Cornwall are designed with input from locally based businesses and also offer live projects and work placements as part of your study, so if you decide to stay in the area after completing your course you could well have the kinds of skills local companies are looking for.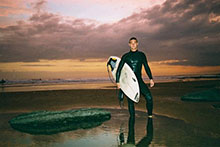 The CUC is also keen to encourage students who already live in the county to remain here for their undergraduate degrees and then to move in to the world of work in the region too. In this way they are promoting the continued economic growth of their local area and making it possible for local youngsters to imagine a future where they don't have to travel away from home to forge their future.
---
Case study: Falmouth University
Created in 2008 with the merger of University College Falmouth and Dartington College of Arts and awarded full university status by the Privy Council in December 2012, Falmouth University is a specialist arts institution with the ambition to become one of the top five arts universities in the world.
The International Student Barometer (ISB), showed Falmouth to be the number one institution in the world in the categories:
"Good place to be".
Support.
Arrival services.
Language support.
Host friends.
This survey speaks to 160,000 students in 14 countries attending 193 institutions and is considered the benchmark of international student opinion by funding bodies and the UK government.
What can I study at Falmouth university?
Falmouth offers courses (both undergraduate and postgraduate) in Art, Design, Media, Performance and Writing and is a member of the United Kingdom Arts and Design Institutions Association (ukadia), which promotes the contributions of its member institutions both nationally and internationally.
There's little doubt that if you're looking to study in the art, design, media or performance fields Falmouth University will have a well-respected course for you to study.
What facilities does Falmouth have?
Falmouth has two campuses:
Tremough Campus: (which is shared with Exeter University), and is the hub if the Combined Universities in Cornwall initiative. It boasts student accommodation for both Falmouth and Exeter, a laundrette, shop, sports centre, teaching, learning and library (housing the design, media, performance and general collections), facilities and The Stannary – Cornwall's largest live music venue.
Woodlane Campus: Houses much of the art and design teaching and boasts an art shop, bar, refectory and subtropical gardens as well as the specialist art, fashion and graphic design library.
A vibrant student community exists within easy walking distance of both campuses and there are also regular bus services between the sites.