Why study in Scotland?

Learning importance
Fantastic culture, beautiful landscapes and famously friendly people… just some of the reasons that Scotland is a fantastic place to study
Scotland has an ancient and pioneering system of higher education, and Scots have always placed great importance on learning, leading the way in this area since the early part of the 15th century. The oldest university in Scotland is St Andrews, founded in 1413; this was followed by Glasgow in 1451, Aberdeen in 1495, and Edinburgh in 1582. As well as these ancient seats of learning, Scotland also offers top-quality modern universities such as the University of Dundee, Robert Gordon University and Edinburgh Napier University.
---
Scotland facts
Scotland has a population of around 5.1m and is rich in history and culture.
The four major cities are Glasgow, Edinburgh, Aberdeen and Dundee.
Scotland has four main international airports (Glasgow, Edinburgh, Prestwick and Aberdeen).
There is a lower cost of living and a higher quality of life in Scotland than in most other parts of the UK.
Most of Scotland's population lives in the towns and cities in the Central Belt, leaving hundreds of square miles of diverse and beautiful unspoilt countryside.
The national flower of Scotland is the thistle – a symbol of Scottish defiance.
---
Education excellence
Did you know?
Scotland has educated some of the world's top intellectuals and inventors including John Logie Baird, Alexander Graham Bell, Adam Smith and Sir Alexander Fleming.
It produces more academic papers and citations per 10,000 of the population than any other country in the world.
Graduates from Scotland's universities have higher starting salaries than the UK average.
Graduates from Scotland's universities have the lowest unemployment levels in the UK.
The Scottish system is also famous for its flexibility. The module-based structure often allows you to choose a mix of modules in your first two years, before deciding which one you would like to specialise in later. Undergraduate courses usually last 4 years but there are opportunities to take 3 year courses in many Scottish institutions.
---
Weekends
Scotland's lively and cosmopolitan cities offer a wealth of activities to suit all tastes. Scotland is home to many internationally recognised festivals such as the Edinburgh Festival Fringe, the Royal Highland Show, Rock Ness and T in the Park. All the cities also have a thriving pub and club scene, with all music preferences catered for.
Our cities benefit from easy access to our beautiful countryside. Fresh mountain air, magnificent scenery and a relaxed pace of life are only a short train, bus or bike ride away. Scotland has two national parks in the Cairngorms and in Loch Lomond and the Trossachs; both within easy reach from all cities.
While in Scotland, why not take the time to celebrate the typically Scottish celebrations of St Andrew's Day, Hogmanay and Burns Night – all testament to the Scots' love of a good party!
---
Colourful history
Scotland's history goes back 5000 years. Scotland was an independent sovereign state for hundreds of years until the union with England formed Great Britain in 1707. It was not until1999 that Scotland once again had its own parliament, while still remaining as part of Great Britain. Throughout this time, Scotland has retained its unique culture.    
It is very easy to explore the history of Scotland by visiting exhibitions such as the National Museum of Scotland or the People's Palace and Winter Gardens. There are many castles and historic houses which are definitely worth a visit, namely: Edinburgh Castle, a spectacular icon of Scotland and World Heritage Site; Glamis Castle the childhood home of HM Queen Elizabeth The Queen Mother; St Andrews Castle and Cathedral and Eilean Donan Castle, one of the most beautiful and most photographed castles in the world.
---
Getting around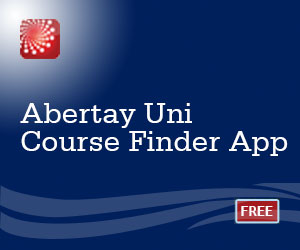 We are a small, compact country so it is easy to travel around and see the sights. All the major cities in Scotland and throughout the UK are connected by excellent rail links with some of the most scenic routes in Europe. Buses also serve all towns and cities and can be an excellent way to travel at relatively low cost.
Scotland's four main international airports all operate both national airlines such as British Airways and low cost airlines. This makes it easy to get to all the major centres of the UK and Europe.
---
Student life in Scotland
Henrietta Evans comes from Lichfield, Staffordshire. She graduated with a MA in English and Film Studies from the University of Dundee in 2012
"Being a Fresher is great. The excitement, the life changing wow factor, the parties and the adventure all that comes with embarking upon a new and significant stage in your life. Being a Fresher at Dundee Uni is even better, we have all this and plenty more.
Dundee has so much to offer and I feel really privileged to study here. Originally from the Staffordshire region of England and having never visited Dundee, I had no idea what I had got myself into when my UCAS offer turned from conditional to firm.
Soon came the day for lift off into what will be my new life for the next four years. Nervous and apprehensive I arrived at my halls geared up for any possible outcome. To my relief though everything was above and beyond what I'd hoped for. I remember stepping onto campus for the first time and being hit by the realisation that this is just where I want to be for the next four years.
There's no better feeling than knowing you've made completely the right choice.
Lecturers were enthusiastic, the union was abuzz and there was a definite community feeling on campus. Coming from a small town myself, I felt really home after just one day. All members of the University community went that one step further to make sure that we freshers felt like we belonged instantly.
I've had the time of life here. I have met some of nicest people around, learnt life-affirming values and been taught by some really committed and inspiring individuals. I couldn't wait to return."