Study in London - Thinking Of Studying In London? 
London is without doubt one of the most cosmopolitan, exciting and interesting cities in the world to stay and study in. Whatever you want to study in London, whatever your outside interests are, you'll find the capital engaging and hugely satisfying.
---
Unrivalled choice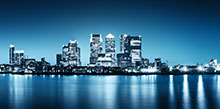 London is home to a massive selection of colleges and universities, boasting some of the finest facilities in the world. There are no less than seven top 200 universities in the capital, more than any other city in the world. From historic scientific institutions, such as Imperial College and University College London (UCL) to dynamic modern places of learning such as the London South Bank University, the city and Greater London has something for everyone.
---
Unbeatable reputation
London is held in high regard around the world, and a degree from a London university carries extra gravitas with employers, especially if you are looking for work overseas. This reputation also means that London universities attract more research investment, meaning that you'll find the finest in fully funded facilities at your disposal.
---
Unique lifestyle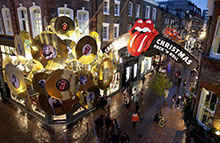 Studying in London puts you right at the heart of the action, whatever your interests, from world class shows in the West End, to international sports at Wembley, Twickenham and Lords. London also boasts some of the world's finest museums and art galleries, including the Natural History Museum and the Tate Modern. You can even step back in time with a visit to Shakespeare's Globe Theatre on the South Bank.
London is also famous for its exciting nightlife, with an incredible mix of restaurants, bars and night clubs to suit all tastes and budgets.
There are, however, some things that you need to consider before you choose to study in London, as the city can also be expensive to live in and to get around.
---
Living in London
Living in the capital can be incredibly expensive, with rents at an all time high for private flats and bed sits. Nonetheless, private accommodation can still be hard to find, with demand far outstripping supply, and good quality, low cost flats and rooms disappearing fast. It is very important therefore, that you choose a university that has at least some good quality, affordable student accommodation or halls of residence within easy reach of your lectures and workshops.
Even so, you should expect to pay more for your accommodation in London, even at universities in Greater London. A typical room in one of the halls at Kingston University, for example, will set you back £110 per week. Your maintenance loan will be calculated with London weighting for all universities in Greater London as well as in the capital itself, but your money will be stretched to the limit.
---
London Transport
London has an excellent public transport network giving you easy access across the city by underground tube train, mainline trains and busses. However, the cost of moving around, especially if your college has several sites, or is located out of the city centre, can be very high.
As a full time student, you can apply for a Student Oyster Card. This costs you £10, but saves you 30% on all adult fares. Oyster Cards are pay-as-you-go cards and will need to be topped up on a regular basis. 
---
Student discounts
London is a city with thousands of students, and so many places appreciate the value in offering student discounts. It is well worth finding out about all of these, as you will be able to enjoy far more with your money. Discounts range from restaurants and bars to the top London shows, with savings of 60% or more available. Make sure you carry your student ID with you at all times so that you are able to cash in on the savings available. Find out more
---
Student work
One of the best ways to make your student loan go further is to supplement it with some extra income of your own, and here studying in London gives you a huge advantage over other cities. The vast number of bars, restaurants and tourist attractions means that there is plenty of part time work available for students in the capital. Many universities and student unions will coordinate work opportunities on your behalf, so it's always worth asking before you set off to search on your own.
---
So is it worth it?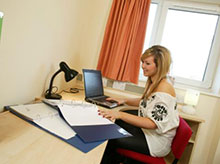 Despite the cost of studying in London, it can be a very rewarding experience and set you up well for the future with a degree that is widely respected. If you choose your college carefully, and manage your money well, London can be an excellent place to study, and to live, during your student years.
---
 London University listings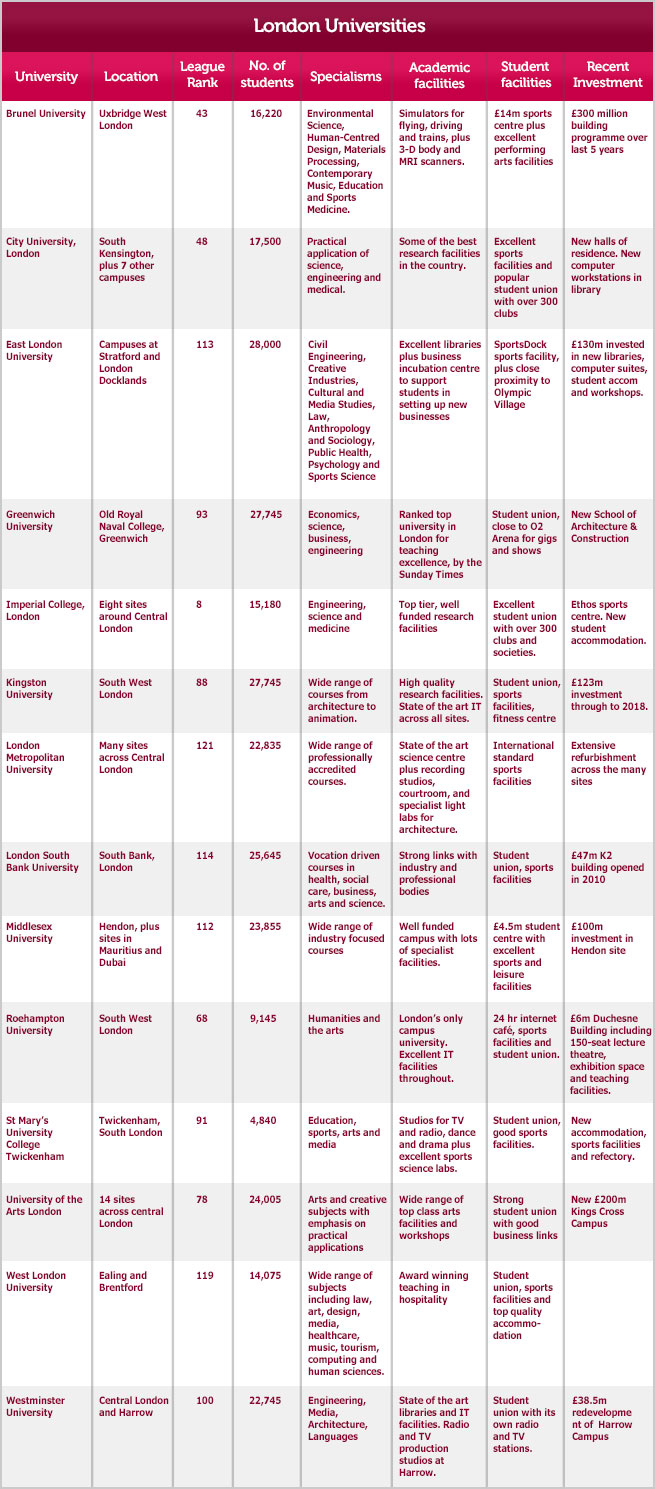 * Sunday Times University rankings September 2012
---
The University of London
The University of London comprises 18 different colleges with 180 buildings across the capital. As a combined institution it is ranked not only amongst the very best in the UK but one of the finest Universities in the world.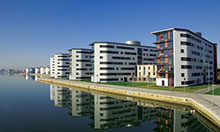 The University of London includes the following colleges:
Birkbeck, University of London
Courtauld Institute of Art
Goldsmiths, University of London
Heythrop College
Institute of Cancer Research
Institute of Education
King's College London
London Business School
The London School of Economics and Political Science
London School of Hygiene and Tropical Medicine
Queen Mary, University of London
Royal Academy of Music
Royal Central School of Speech and Drama
Royal Holloway, University of London
Royal Veterinary College
St George's, University of London
School of Oriental and African Studies
University College London