Study in Leeds

Nightlife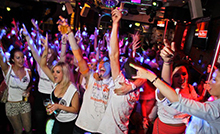 Without a doubt, Leeds is the nightlife capital of the north, if not the UK. There are more bars in Leeds than your average prison, and probably more clubs as well. Unlike other cities which have just one or two superclubs, Leeds has hundreds of room-sized bars to discover. Whatever you are into you are likely to find something to your liking.
---
Getting around
You will be able to get home for the weekend without needing to change trains. Leeds has a fair claim to be the busiest station outside London, and you can pretty much reach every destination in the UK. You live abroad? We've got an international airport right on our doorstep.
Also if your feet just don't do walking, then you can get to go on the Black Prince buses for a cheap student price. Or if you fancy travelling around the whole of West Yorkshire you can get a month's free pass for all the buses and trains for a bargin price.
---
Sport
If sport is your thing, then Leeds is definitely for you. It's the only city in the UK that has a Championship football team, a Super League rugby league team, a Premiership rugby union team and a county cricket team - and all of them offer deals for students.
---
Quick getaways
Despite being the fastest-growing city in the country, you are only a short hop, skip and jump from the Yorkshire Dales and some of the best scenery around. And if history and culture are your bag, Leeds is full of it and York is just 30 minutes in the other direction. Getaway!
---
Student friendly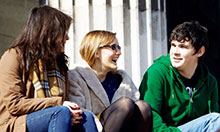 With two universities right on top of each other, and a number of further education colleges, you are never far from a student-friendly bank, pub, offy or late-night curry house. And because nightlife is so important in Leeds, no-one is going to moan "pesky student" at you...
---
Great location
Don't have nightmares about college being across the other side of town. Unlike other cities, both Leeds Met Uni and Leeds Uni are located next to each other within spitting distance of the city centre. And with all the student accommodation located right behind, if you decide to study in Leeds and have a pair of shoes you'll be able to see and do everything.
---
Work opportunities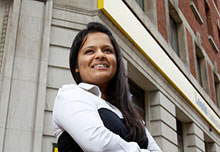 Leeds is fantastic for getting part-time and/or summer jobs. All those bars need barstaff, and as the city plays host to a fair number of call-centres, staff working outside office hours are always in demand. Plus being an administration centre to many of the large financial and insurance companies, the need for temps is constant.
Once you graduate there are plenty of jobs here - and we're not just talking at McDonald's. The growth of the city is phenomenal, and the need for graduates is never-ending. As well as the major financial companies, Leeds is home to some of the biggest IT groups as well as internet providers and the backbone companies.