Students guide to Bournemouth

More than meets the eye
You may have the idea that Bournemouth is a sleepy seaside town where people retire to. Some may, but the town of Bournemouth is far from sedate. Not only does it have two major tertiary education centres, it has an international airport, good rail links to London and the rest of the UK and easy access to cross-channel ferries. In recent years, Bournemouth has attracted major investment in leisure facilities, business and tourism and has a thriving collection of pubs, clubs, and restaurants. With several choices for tertiary education also available in the town, Bournemouth has a lot going for it.
---
Student life in Bournemouth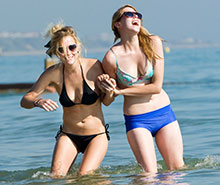 Living as a student in Bournemouth you can take advantage of the 7 miles of sandy beaches, some of the best in Britain, during the summer months. Sailing and all types of water sports are available and the Sailing Academy, built for the Olympics, is a short distance away in Weymouth. The Bournemouth International Centre and Bournemouth Pavilion offer live events every week of the year, including live gigs, classical concerts, top-named comedy performances (Paul Merton was here in April 2012) as well as skating and dance championships.
---
Bournemouth University
The University of Bournemouth has an increasingly good reputation as a specialist in media and applied sciences, but it offers much more. It was a finalist for the Times Higher Education prize for University of the Year 2009; Bournemouth didn't win, but being close second is an indication of how well the institution is regarded.
The Bournemouth University Students Union is one of the most active and proactive in the country. The university buildings and centres are split into two but all facilities are within a 5 mile radius and inter-campus buses run frequently. The town is also well equipped with safe cycling routes.
---
Bournemouth University key facts
www.home.bournemouth.ac.uk/ 
Tuition fees for full time courses from £8200 per year to £9000 per year
17000 students
Two campuses, the Landsowne Campus and the Talbot Campus (at Fern Barrow, Poole)
All first year's offered places in university accommodation
Prices £95 to £120 per week (2012)
Over 700 different courses available
Eight Halls of Residence divided between Bournemouth and Poole, including the new one opened this year (Dorchester House)
---
Bournemouth University talking points
Sony HD TV Studio
National Centre for Computer Animation
Medical Practice Skills Suite: an on campus collection of real nursing wards, operating theatres and a midwifery suite.
Crime house and summer schools for Forensic Science
Centre for Broadcasting History Research
School of Tourism
Media School, which is the UK's only higher education centre of excellence in Media.
Music Centre
School of Applied Sciences
Business School
Fabulous water sports and sailing facilities at the Weymouth Sailing Academy that featured in the Olympics London 2012
---
Other possibilities for studying in Bournemouth
The Arts University College at Bournemouth; www.aucb.ac.uk  This has been in existence since 1885 and is now a specialised higher education centre for art, design, performance and media, offering courses in architecture, film production and photography, fashion, animation and acting.
The Bournemouth and Poole College; www.thecollege.co.uk  Collaborates with partner universities to provide part-time and full-time courses, including foundation degrees for vocational subjects and apprenticeships. It welcomes adult learners as well as students joining at 18.
Bournemouth Business School International; www.bbsi.co.uk Run s English language courses for international students, with an emphasis on preparation for other university courses. It specialises in Business Management courses, including marketing, finance, hospitality and tourism, but also offers courses in science, IT, technology and law. All include English language support.