Private Universities in the UK

You probably are already aware that you need to make a huge number of decisions when applying to uni – what course, which location, which university. But did you realise that while the majority of UK universities are state-funded, although they now charge tuition fees, we also have a small number of private universities? What can these private educational institutions offer and why should you give them serious consideration?
---
What is a private university?
Traditionally in the UK, universities have been state funded, not-for-profit institutions. Unlike their European counterparts, the state does not own the universities in the UK and the staff are employed by the university rather than being civil servants, but nonetheless, most universities are considered to be public or state run.
Private universities sit outside of state funding and raise all their running costs through tuition fees. They have the same degree awarding powers and are bound by many of the same standards that apply to public universities, but they are run by either charities or limited companies and receive nothing from the state.
Since the introduction of tuition fees in 2012 however, the boundary between public and private universities has become less clear. Once the last of the pre-fee paying students have graduated, it is estimated that just 15% of university funding will come from the public sector, with the rest coming directly from tuition fees, making them much more like private institutions. What's more, some UK state universities, such as the London School of Economics, are already public companies, while many private universities have charitable status, like most state universities, blurring the boundaries still further.
Why consider a private university?
Since they depend on students for their income, private universities tend to work harder to enhance the student experience. They have fewer students in smaller classes, and many operate Oxbridge style tutorial teaching rather than large scale lectures. Furthermore, they tend to be less research orientated, with staff focussing their efforts and energy on their teaching duties instead.
Another advantage of private universities is their focus on the professional side of their degrees and preparing students for their future careers. Private universities tend to be much more hands-on and vocationally orientated than their purely academic equivalents in the state sector. A third of the legal profession and two thirds of accountants study with BPP, while the University of Buckingham has an impressive 97% graduate employment rate.
---
What will I get from a private university degree?
A degree at a private university will be much more about you. At a typical university with 15-20,000 students, you will inevitably be just a number in the crowd. With the smaller student numbers at a private university, you will enjoy a higher level of personal attention and encouragement, as well as an enhanced quality of pastoral care.
Private universities may also offer higher standards, as they compete with the state system to attract students. As Universities Minister, David Willets told the Daily Telegraph in July 2013, private universities create a 'genuinely open system that encourages real student choice, and exciting institutional competition should only be seen as a race to the top.'
---
Are private universities more expensive?
You might expect this to be the case but, in fact, some actually offer lower tuition fees than state universities. BPP University College charges fees as low as £6,000 per year for two year accelerated degrees, so you could get your degree for just £12,000. Similarly, the University of Buckingham offers a two year degree costing just £22,500, saving you £4,500 on a typical three year course.
Private universities are not subject to the same fee cap as public institutions, and at the other end of the scale, you can pay up to £14,200 at Regent's University London and £17,640 per year at the New College of the Humanities. Students who've opted to take up places here argue that the extra financial cost is more than outweighed by the educational advantages and the enhanced job prospects beyond graduation. "You get what you pay for..."
---
Will I get financial support for a private university?
Some private universities qualify for a tuition fee loan from Student Finance England and some do not. For example, you cannot currently get a tuition fee loan for Regent's University or the New College of the Humanities. Up until now, private university tuition fee loans have been capped at £6,000 per year but this is currently under review and is thought likely to rise to the same £9,000 as state university loans in the very near future.
---
The UK's private universities
A study by the Department for Business, Innovation and Skills found at least 674 different private higher education providers in the UK, together educating over 160,000 students. Most of these are small, highly specialised private schools and colleges who award degrees in conjunction with state universities.
The UK currently has six private institutions with degree awarding powers, though not all of them qualify for university status due to the size of their student body. These are:
The University of Law
BPP University College
Other significant private education institutions include:
New College for the Humanities (awarding University of London degrees)

---
Regent's University London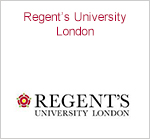 Regent's University London has around 4,500 undergraduates and offers a range of degrees covering business; film, media & performance; psychology and English language. The staff/student ratio is around 14/1 with plenty of contact through taught classes and tutorials. Fees are set at £14,200 for most courses, with Regent's set up as a not-for-profit organisation.
Regent's has an excellent reputation for high quality individual teaching, attracting students from 140 different countries around the world. Regent's graduates command significantly higher salaries than the average and have achieved a number of high profile roles in government and the media.
---
University of Buckingham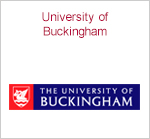 The University of Buckingham has 1,300 students on campus with a low staff / student ratio of 10.5/1. It has topped the national student survey for five years in a row, and has seen applications increase by 100% in the last two years, despite a national drop of 10%.
Buckingham offers a wide range of courses from accountancy to journalism, history to law, with the unique option of a two year degree, studied over four terms per year, at a total cost of just £22,500. From January 2015, the brand new Milton Keynes Medical School will provide an accelerated medical course, taking just four and a half years rather than the usual six, with fees of £35,000 per year.
---
Richmond the American University in London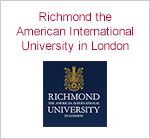 AU Richmond has fewer than 2,000 students over two campuses in Richmond and Kensington. It offers degree courses in business, international relations, arts & sciences, humanities & social science and sports. All AU Richmond degrees are valid in both the UK and the US, and most are flexible four year programmes with an introductory year that allows you to explore your options before you commit to a set subject.
AU Richmond offers three different entry dates in the autumn, spring and summer and students with good A level grades may be able to enter programmes later and qualify in just three years. Fees are set at £9,000 per year for all degree courses.