Bournemouth: a great place to live and study

Bournemouth: a great place to live and study
Bournemouth is a vibrant, cosmopolitan town that has a lot to offer students that are looking for an exciting university experience. With seven miles of sandy beaches, shops, restaurants, and a buzzing nightlife you're sure to find plenty to do when you're not studying.
As well as regular events being held at whichever university you attend there are also various events held throughout the year such as the Bournemouth Air Festival, Bournemouth Arts By the Sea, and the annual Christmas market.
So, what else do you need to know about studying in Bournemouth?
---
Where can I study in Bournemouth?
Bournemouth has two universities, although both are located in the neighbouring town of Poole, and they have excellent reputations.
Bournemouth University was founded in 1992 and is highly recognised for its work in the media industry. In fact, graduates from the university have worked on a number of Hollywood films including "Gravity".
There are two campuses – Talbot Campus and Lansdowne Campus – along with eight halls of residence for students to choose from.
Arts University Bournemouth has been in existence since 1880, although it has only been known by its current name since 2012 after gaining full university status.
The campus is made up of 19 buildings that house lecture rooms, student facilities, and specialist workshops and workspaces. The library boasts over 50,000 books on art, design, media, and the performing arts.
---
Study at one of the Largest Chiropractic College in Europe
AECC's chiropractic degree programme is globally recognised, nationally and internationally accredited, allowing you to work almost anywhere in the world. As an established global leader in musculoskeletal healthcare our students benefit from on campus state of the art facilities. We can help you go further.
---
Why should I study in Bournemouth?
Both of the universities are highly respected worldwide for their quality of teaching, academic brilliance, and reputations for producing top class graduates that go on to be successful in a variety of industries.
---
What else does Bournemouth have to offer?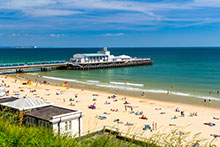 Bournemouth is a well-known tourist destination and as such as any number of attractions, leisure facilities, recreation grounds, and culture hot spots.
Major music and arts venues include the BIC, the O2 Academy, and the Pavilion Theatre. There are also a number of smaller, independent venues that showcase the best of local musical and theatrical talent.
With over 200 listed buildings Bournemouth is a very attractive place to live, especially on the waterfront where you'll be able to see the historic Bournemouth Pier.
There are a number of festivals held throughout the year, including the ones we mentioned at the beginning of this article, such as the Bournemouth Food and Drink Festival and the Bourne Free Carnival.