Getting to Know University Jargon: the Top 15 Words You'll Need to Know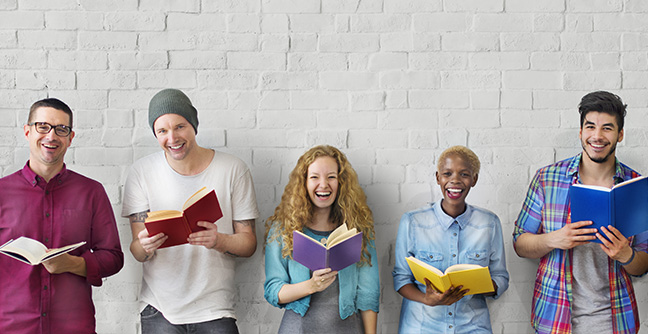 Settling into university life can be hard, especially when everyone seems to be speaking in jargon you just don't understand.
Knowing university jargon before you arrive on campus can help make your transition from university applicant to fully fledged student a whole lot easier.
Here are the top 15 words of university jargon we think you'll need to know:
1. UCAS – the Universities and Colleges Admissions Service
You'll have been hearing the word UCAS from the minute you started thinking about university so it's important you know what it is.
---
2. Clearing
Another term you'll probably be familiar with if you're going through the application process. "Clearing" a chance for students without a university place to get into university at the last minute, when A Level results have been published.
---
3. Bursary
A non-repayable grant of money award to students who meet certain criteria: i.e. students from a low income family or coming from a local college. These are usually awarded by the university itself.
---
4. Bachelor's degree
The majority of undergraduate students will leave with a Bachelor's degree, unless they complete a programme which involves a further year of study to gain a higher qualification.
Bachelor's degrees are usually a Bachelor of Arts (BA) or Bachelor of Science (BSc) but others include Bachelor of Engineering (BEng) or Bachelor of Education (BEd).
---
5. "SU" – the Student Union
Your university's Student Union is an organisation run by students to represent their interests and ensure the voice of the student body is heard. As well as being involved in university politics they'll also organise and administrate all of the clubs and societies on campus and be responsible for events, fundraising, and other activities.
---
6. "Halls" – Halls of Residence
This is accommodation on, or near campus, owned by the university and rented to students. You may have a roommate or a single bedroom and other facilities such as kitchen and bathroom are usually shared with other students in your block of halls.
In recent years there has been a rise in private companies also offering halls of residence, particularly in bigger university cities such as London.
---
7. Freshers' Week
The first week of university in your first year which is designed to help you embrace university life.
There are tours, events, and activities to help you make new friends and get to know your university. This is also the time to enrol for your course and do other important jobs such as register with the local doctor.
---
8. Semester
A semester is half a study year – some universities choose to have three terms within a study year (so a term and a half would be one semester) and some just two semesters.
---
9. Lecture
You'll find yourself being taught in a group, maybe of your whole year group or everyone on your module, in a large room or lecture theatre listening to a lecturer talk.
You probably won't have the opportunity to ask questions so it's important to take notes and/or record the lecture to take notes later.
---
10. Seminar
These are sessions in a smaller group where you'll discuss the things you've learnt in the lecture in more detail. Be confident in taking part in the open discussion and make sure you've done background reading so you can contribute.
---
11. Lecturer
This is a professor who will be both a teacher and researcher. They'll lead lectures and seminars on their particular field of study.
You may come across various guest lecturers from other universities during your time studying.
---
12. Personal Tutor
As well as coming into contact with teaching staff you'll also have a personal tutor to support you through your time at university.
This will be a member of the academic staff who can advise you on your studies, your career path, life choices, and other issues you may need support with. They'll also be able to signpost you to the right person if they can't help directly.
---
13. Reading Week
This usually takes place half way through each university term and gives you a break from seminars and lectures for a week.
However, this isn't an opportunity to take time off, you're meant to use the time to catch up on background reading and prepare for essays or exams.
---
14. Careers Service
This is definitely a service you want to make the most of when you're at university. the Careers team will be able to advise you on career paths, help build your CV, and provide information about jobs whilst you study.
You may also find that employers work with the Careers Service to recruit top graduates direct from the university and hold recruitment events throughout the year.
---
15. Dissertation
This is a piece of independent research undertaken in your final year of study that may contribute to a high percentage of your final grade. Usually between 7000 and 15,000 words long you'll complete it on a subject of your choosing with the guidance of a dissertation tutor.