Young Persons Railcard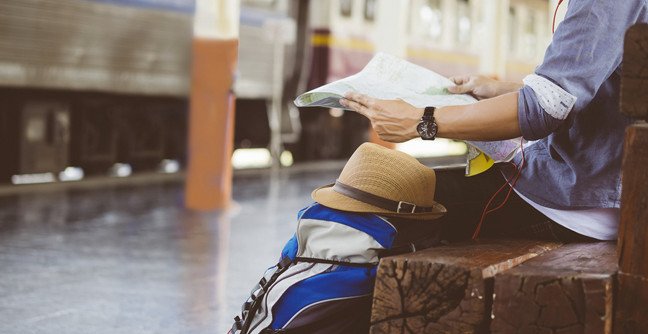 Get your 16-25 Railcard
Aged 16-25 or a full time student aged 26 or over? Save 1/3 off most standard class rail fares throughout Great Britain with a 16-25 Railcard.
Train companies
Arriva Trains Wales, c2c, Chiltern Railways, CrossCountry, East Coast, East Midlands Trains, First Capital Connect, First Great Western, First Hull Trains, First TransPennine Express, Gatwick Express, Grand Central, Heathrow Connect, Heathrow Express, Island Line Trains, London Midland, London Overground, Merseyrail, National Express East Anglia, National Rail, Northern Rail, ScotRail, South West Trains, Southeastern, Southern, Stansted Express, Virgin Trains
---
Details
A 16-25 Railcard costs £30 and it'll save you 1/3 on rail fares throughout Great Britain for a whole year, including all Standard and First Class fares. Take a look at all the ticket types you can make savings on with a 16-25 Railcard.
You're eligible if you're aged between 16-25, or over the age of 26 and in full-time education. Please see our eligibility criteria for more information.
There are plenty of ways you can use your Railcard, for both long and short trips. Better still you can use it anytime on weekends, public holidays and during the week. The only restriction is that if you travel at or before 10am Monday to Friday (except during July and August) a minimum fare of £12 will apply. See minimum fares for more details.
Your Railcard also allows you to take advantage of our great partner offers, giving you exclusive discounts across the UK.  See our offers section for all the latest partner offers.
Now you can also buy a 3-year 16-25 Railcard, available only online. It's great value at £70, saving you an extra £20 on the cost of renewing your 1-year Railcard for three consecutive years. You can buy this 3-year Railcard up until the day before your 24th birthday.
Please visit the 16-25 Railcard website for more information or click here to buy now.
People with a 16-25 Railcard save on average £189 per year*, and the Railcard typically pays for itself within 3 journeys. If you're travelling here's an example of some of the savings you can make
---
Conditions
1. Tickets for your journey should be purchased before boarding the train. You must have your Railcard (and Photocard/Permit to travel without Photocard if applicable) with you on your journey and always show the valid Railcard and ticket to rail staff at their request. If you do not show both the Railcard and the ticket, you will be required to pay the full price Standard Single fare for your journey as if no ticket was purchased before starting the journey and in some cases a penalty fare. This does not apply if there was no ticket office at the station at which you began your journey or if the ticket office was closed and there was no ticket machine from which you could buy a discounted ticket.
2. Minimum fares applies to both outward and return journeys on some tickets before 1000 Mondays to Fridays (except Public Holidays and in July and August). The minimum fare is £12.
3. Discounted tickets are not valid for travel in First Class, except for travel in Weekend First accommodation on payment of the appropriate supplement.
4. In the case of some low price tickets the actual discount with a Railcard may be slightly lower than that advertised.
5. The right is reserved to revise these Conditions and availability of the tickets mentioned here. The Train Companies will endeavour to give three months' notice of any changes before they are due to come into effect.
6. Tickets issued to the holder of the Railcard are issued subject to the National Rail Conditions of Carriage and the Conditions listed here. Copies of the National Rail Conditions of Carriage are available from any staffed station ticket office or online at www.nationalrail.co.uk/times_fares/nrcc/