Part Time Student Finance

Studying part time?
Many mature students choose to study part time to fit around their existing work or childcare commitments. However, as a part time student, you will still be charged course fees and will still incur other costs such as living expenses and books. So what will part time study cost you and what help can you get with part time student finance?
---
Part time student finance: what is 'part time'?
To qualify for part time student finance, your course will often have to meet set definitions of part time. This is usually worked out as a 'course intensity' figure, which compares part time courses to their full time equivalent. If the full time course takes two years, and your part time course takes four, then it has a course intensity of 50%. Course intensity can also be calculated by comparing the number of course modules studied per academic year.
---
Part time student finance: what will it cost?
Since the introduction of tuition fees, universities and colleges have been able to charge up to £6,935 for part time courses. However, part time students no longer have to pay any fees up front, as many mature students have had to do in the past.
There will, of course, be other costs that comprise part time student finance, such as living costs and childcare, and you will need to consider all these costs carefully when deciding if you can afford part time student finances.
---
Part time student finance: loans and grants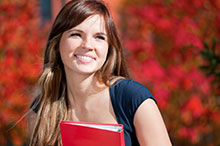 Part time student finance does not include maintenance grants or maintenance loans, although you may still qualify for individual bursaries and awards. Each university has its own criteria for such bursaries and you need to ask them directly if your part time course qualifies.
You will be able to take out a loan of up to £6,935, to cover your course fees to help with part time student finance. Like a full time student loan, you will not have to start repaying this until you earn at least £27,295 per annum, and then you will only pay at the rate of 9% of any amount over this.