Degrees at Sea

Discover a career with the Merchant Navy
Fully-Sponsored Degree Programmes with the Merchant Navy! 
The Merchant Navy is the term used for the commercial shipping industry that carries goods and passengers around the world.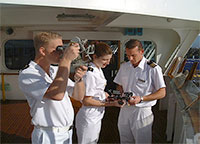 With the ocean as your backdrop and your workplace the most advanced and sophisticated ships in the world - there really is nothing to compare with life at sea. 
Commercial ships operate worldwide as part of an essential global business that is highly efficient, hugely competitive and offers superb career opportunities.
---
Roles within the Merchant Navy
The job roles on merchant ships are Deck (navigating) Officer and Engineering Officer or Electro Technical Officer (ETO). For full descriptions visit http://www.careersatsea.org.uk/roles/  
---
Qualifications
Trainee Merchant Navy Officers complete a 3yr (approx) education and training programme at a number of world-renowned nautical colleges or universities. This will provide professional seafaring certification that will be recognised across the globe as well as degree, HNC or HND qualifications. And what's more, the programmes are available at all entry levels from GCSE/ Standard Grades to A Levels/ Highers.  Graduates with relevant degrees, especially in Mechanical Engineering, may be able to follow a shorter course of study to obtain their professional seafaring certificate. For the list of colleges and universities visit www.careersatsea.org.uk/qualifications/colleges Each course leads to the Officer of the Watch Certificate of Competency, this is the seafarer's professional "licence to operate" as an officer and is recognised internationally. 
---
Application Process
The application process is straight forward, and should be made direct to shipping companies or other organisations for sponsorship and to arrange college/university admission.  The list of companies is available on: www.careersatsea.org.uk/apply/sponsoring_companies
---
What is involved?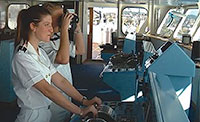 Training begins at a maritime college/university where the initial period includes basic safety training courses required before going to sea. This is followed by a sea "phase" where the theoretical knowledge is put into practice under the guidance of the ships' officers. This alternating pattern of shore based training followed by practical training at sea is continued for the remainder of the course which lasts for about three years. 
Depending on the sponsoring organisation, the trainee can find themselves on a variety of ships from sophisticated smaller vessels around the UK coast to the latest and largest passenger, cargo and tanker ships sailing worldwide. Find out more about the different ship types www.british-shipping.org/British%20Shipping/ship_types
---
What happens once training is complete?
A newly qualified junior navigating, engineering officer or ETO can expect to earn around £25,000 per year.  Leave is generous and can be two months or more - depending on the type of trading in which the ship is employed. Further study and experience will enable progression through the officer ranks to the ultimate positions of Captain and Chief Engineer.
Seafaring experience and maritime skills are highly transferable and in great demand ashore in specialist jobs within the shipping and maritime industries and in a wide range of other industries.
---
Testimonials from those already at sea!
"Our first trip took us across the Atlantic, through the Panama Canal to Japan. We'd both chosen the Merchant Navy because we wanted a career that was varied and rewarding - and over this trip we both found we'd made the right decision". - Kate Allen & Karley Smith - Deck Officer Trainees.
---
Further Information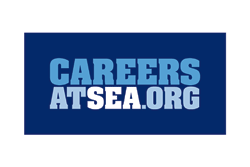 To find out more information about Merchant Navy Career Opportunities please go to www.careersatsea.org, email enquiry@careersatsea.org or find us on facebook www.facebook.com/careersatsea
Careers at Sea is the definitive source of central industry information providing details about entry routes, training pathways and career progression in the Merchant Navy.