What to do if your grades are better than expected

If results day arrives and you have some pleasant surprises in terms of achieving better results than expected, don't just sit back and gloat. Okay, well you can gloat for a few minutes – but you should really be thinking about Adjustment after that.
Adjustment is an official UCAS system that has been put in place for those who have under-promised and over-delivered in terms of exam results. Adjustment gives you the opportunity to explore different courses which could become available to you, following the improvement in your grades. 
Should I use Adjustment?
It's important to note that you should not feel obliged to change course or university through Adjustment simply because you have the option to do so. If you are still satisfied with your original confirmed place then it may be best to stick with it. Adjustment is a relatively time-sensitive process and may not offer the opportunity to visit the new university or research it in as much depth as you would probably like to before accepting a place.
Applying late through a process such as Adjustment or Clearing can also raise a number of practical issues, and some people are reluctant to apply this way because it often means there can be no guarantees made on student accommodation; which has already been assigned.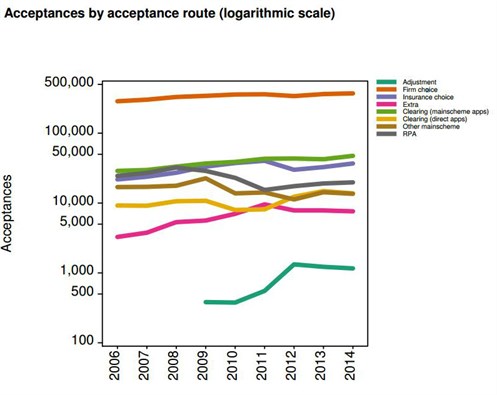 In 2014, there were 1,160 students accepted through the Adjustment process and it is expected that this number will continue to rise in the coming years as more people become aware of this route. Adjustment was only introduced in 2009, so is only starting to become widely recognised as a common option.Some universities are now beginning to address this issue by holding back some accommodation places, specifically for students being accepted via Adjustment or clearing. 
Are all subjects available through Adjustment?
The range of courses available through the Adjustment process is broad, and it is designed to give everyone a chance to upgrade their place regardless of their chosen field of study. However, there are some exceptions for courses with earlier application deadlines and very limited places - subjects such as Medicine, Dentistry and Veterinary Medicine will generally not accept students through Adjustment. 
How does Adjustment work?
Adjustment is a designated five day period during which eligible students can apply to see what options are available to them, without sacrificing their original confirmed place.  It is a relatively simple process, but one which you need to be prepared for if you are to make the most of the opportunity. Here are the key steps to follow if you wish to use the Adjustment process, and how to make sure that it works for you.
Prepare a list of potential universities and courses in advance
You will need to be prepared with a list of the options you are interested in considering should the opportunity for a change of course come up. Once entering the Adjustment period, both time and course spaces will be pretty limited – so knowing exactly what you want to go for will give you a much better chance of succeeding.
Make sure you are eligible
Your UCAS Track page (make sure you're registered for Track ahead of time) should notify you if you are eligible for Adjustment. As long as you meet all the conditions of your offer and exceed at least one of them you will be eligible for Adjustment, and have five days following results day to use the option.
Contact your new choices
You can begin contacting your new choice universities, and ask to apply through Adjustment. They will be able to confirm if there are any places available. There is no central listing of which courses or universities have places, but those which are listed for clearing should have place available, as well as many others.
Once you're sure, confirm your new choice
Your original firm offer is safe until the point at which you accept another offer – even if that is only verbally over the phone. If you verbally accept an offer then the new university will likely contact UCAS immediately to process this, and your original offer will be lost.  If you decide that you want to stick with your original firm offer then that's okay, you don't have to do anything – if the Adjustment period passes without you accepting a new offer then the original choice will stand.