Top Five Tips to Help You Choose Student Accommodation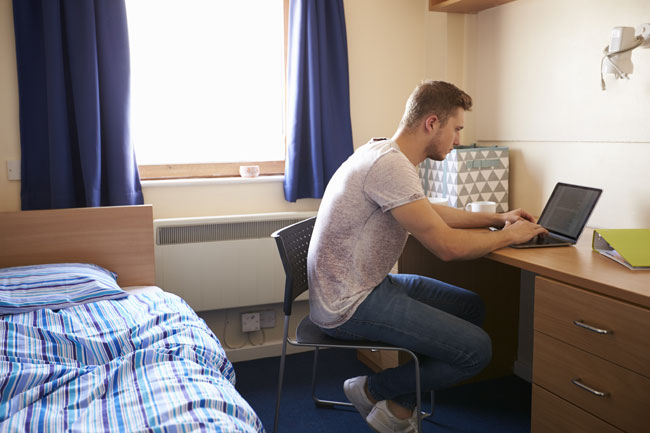 Student accommodation can be tricky to navigate as a first year student – here are our top five tips to help you make your choice
Once you've chosen your dream university and they've made you an offer, you've got another big decision to make – where you're going to live.
For some students this is year, bigger universities often guarantee accommodation to students for their first year, and some students may be choosing to commute to university from home if they live reasonably locally.
However, for everyone else there are options you'll need to carefully consider before making your choice.
Don't forget, your accommodation could have a big impact on your experience at university, so choose wisely!
Here are our top five tips to help make that challenge a little easier:
---
Understand your options
Many universities provide students with an accommodation guide so get your hands on one and read it thoroughly before narrowing down your options.
Accommodation available could include student halls on and off campus, private halls, and privately rented flats and houses. Each of these has their pros and cons, and only you can decide whether they'll be suitable for your personality, lifestyle, and budget.
---
Consider your budget
What you can afford will probably be one of the biggest deciding factors when you're looking at your accommodation options.
As well as the rent, you'll need to factor in any utility bills and other costs involved in your preferred option before making a final decision. Be sure to get all of the financial information, including the date that payments are due, before you sign on the dotted line.
---
Location is everything
A great location is a very personal thing – one student might think living on campus is the ideal location; another might want to live further away or closer to the town centre.
Consider your lecture timetable, the location of any extra-curricular or sporting activities you take part in, and your social life when looking at where to live. Also take into consideration where the nearest shops and supermarket are – particularly if you don't drive and public transport isn't reliable and/or frequent.
---
Double check your sources of information
Whilst comparison sites and social media are great tools when you're researching universities, they're not always the most accurate. It's always best to talk to the university directly and call them to confirm any information you find elsewhere.
---
Get yourself to open days
Open days are the best way of really getting to grips with the accommodation options at university because you can see it for yourself. The university will put on tours of accommodation they provide, if a private company offers student halls for that university they'll do the same, and if you're considering private letting then you can look around the area and see the type of housing you're likely to end up in.
Glossy brochures and website are all very well, but you might end up changing your mind once you've seen the accommodation for yourself.