Facilities

Student Services
At York St John, we're keen to make sure that every part of your student life is as successful and happy as it can be. Our Student Support teams are available to you at any time throughout your student life, to make sure you get the best out of your time at University. 
We offer the following services:

Wellbeing & Counselling
The Wellbeing Team provide counselling, mental health support, welfare advice, support for Care Leavers and those First in Family, self-help materials and workshops. We hold a daily wellbeing drop-in so you can access professional psychological support quickly.
Health Centre
We recognise the importance of accessible quality health care for all students and our on-campus health centre provides a wide range of health services.
GP surgeries and nurse led clinics run throughout the week.
Residential Support Assistants (RSAs)
Trained Residential Support Assistants support students living in residential accommodation across the campus and a number of RSAs are on call every night during term-time. RSAs work closely with colleagues across the University to make sure we maintain an environment where you will feel safe, supported and able to succeed in your studies.
Chaplaincy & Spiritual Care
We offer holistic spiritual care to students from all beliefs and none. The Chaplaincy offers a non-judgemental, confidential 'listening ear' service to all. Faith advisers from many of the world faiths also provide support and advice.
Additional Learning Support
York St John is working hard to create an inclusive environment for all our students. We work with a wide range of students who may require some kind of additional learning support such as students with dyslexia, disabled students or students with medical conditions.
Disability Support
We offer a range of services such as note taking, mentoring and additional arrangements for examinations.
Dyslexia and Specific Learning Difficulties (SpLD)
The University offers screening for specific learning difficulties and you can also apply for funding towards the cost of a full educational psychologist's assessment. If you are diagnosed with a SpLD there is a wide range of support and guidance here to help you.
Student Funding Advice
The Student Funding Advice Team run many events throughout the academic year to encourage students to think carefully about money management and getting the most out of your finances whilst at University. 
---

Student Community
Your Higher Education studies will almost certainly be the most enjoyable and significant years of your life. But studying is only one part of the student experience. 
As a York St John University student, you automatically become a member of the Students' Union. This gives you access to all the services we provide from emotional and academic support, advice and representation through to clubs, societies, volunteering and entertainment. We believe that university can transform your life and we want to help you do that in whatever way you want. The Students' Union is a democratic organisation – run by students for students. They work alongside the University to ensure you have the best time whilst you are here and to ensure fair representation across campus.
We represent every aspect of our student body and are continually looking for ways to make things better.
While you are here you can:
try new sports
show off your creative side through our variety of performing societies
become a campaigner
take up a new hobby
build your CV through taking on organising roles
give something back to the local community through volunteering
help your fellow students by becoming a Programme Rep
 change what goes on in the Union by joining the Entertainments team
The list goes on and on. If the activity you're interested in doesn't currently exist, let us know and we'll happily help you make it happen!
---
Study Facilities
Fountains Learning Centre provides an exciting, modern space to study with a variety of learning spaces for individual or group working. There are zoned areas for everything from collaborative creative working to silent study. Library staff and IT technicians are available to help and support you in your studies, just ask at Question Point, which is staffed throughout opening hours.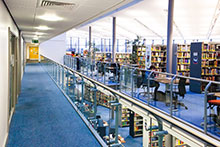 De Grey Court is a multi-award winning development which houses facilities for the Faculty of Health & Life Sciences, including for Occupational Therapy and Physiotherapy. Whilst the Quad is home to dance and drama studios, TV and film production facilities and a renovated Victorian chapel  - now a showcase studio with top of the range lighting and sound equipment.
Foss Building contains our sports hall, a physiology laboratory, a biomechanics lab, a psychology lab, physiotherapy labs, and a recently expanded and refurbished fitness suite.
---
About the Campus
Our 11 acre site is in a beautiful setting facing the world-famous York Minster across the city walls. Originally built around a quadrangle in 1841, York St John's oldest buildings present a striking frontage to the University. Newer buildings added over the past few years provide a wonderful contrast and include De Grey Court and the Fountains Learning Centre which houses the library, IT facilities, Computer Science lab and a modern lecture theatre.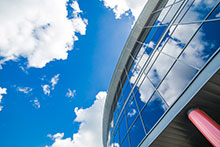 The Foss Building houses our sports hall, a physiology laboratory, a biomechanics lab, a psychology lab, a biomedical sciences labs, a fitness suite, physiotherapy labs and general teaching rooms.
Other facilities include a dance studio, drama studio, music rooms (both practical and technical), TV and film production facilities, editing suites and dedicated art and design studios. There are a number of catering outlets on campus and the Students' Union has a bar, café, shop and offices on campus.
The university's new sports facility, Nestlé Rowntree Park, was officially opened in April 2015. The 57 acre site, just under a mile from the Lord Mayor's Walk campus, includes a 3G pitch for rugby and football; a synthetic pitch for hockey and small-sided games; three netball courts and three tennis courts. There is also a grass pitch for rugby, two grass football pitches, a cricket pitch, a sprint track and a bowling green.  A new sports centre, which gained planning approval in March this year, is the next phase of an overall £7m investment. The centre will contain sports courts, changing rooms, gym facilities and conference and teaching space. It is planned to open in September 2016.
---
York
With around 20,000 students and thousands of tourists visiting the city all year round, York really is a lively place to be. It's great for nightlife of all kinds, it has restaurants, pubs, wine bars and cafés to suit every taste imaginable and it's fantastic for shopping. York St John is literally minutes away from the city centre, so is perfectly placed for nights out and retail therapy jaunts.
Shopping and socialising aside, you can't fail to notice York's history and culture. It's hard not to find history fascinating when it lives and breathes around you. York Minster is world renowned and well worth a visit. The city's Viking heritage comes to life every year in a rowdy, funpacked festival with hoards of Vikings taking occupation of the streets. You can also step aboard a time car in the world-famous Jorvik Viking Centre to travel back to 948AD. The condemned cell - where the infamous highwayman, Dick Turpin, spent his last night in 1739 - lies within the walls of York Castle Museum. The National Railway Museum is not just for train spotters (so we're told!) and you can even catch the plague at the York Dungeon.