Overview

Study at the University of Aberdeen
There has never been a more exciting time to embark on studies with the University of Aberdeen. Our aim is to further develop the learning and support services that we provide to ensure that our students are well supported and have the opportunities to gain the skills to succeed in the global market place. This includes the completion of our £28million Olympic standard sports centre, the development of a flagship library for the 21st century, and the implementation of a new curriculum for students.
The University of Aberdeen has always been strongly committed towards academic and research excellence. The quality of the research activities carried out at Aberdeen has been validated by the five 'Nobel prizes' awarded, for work carried out, or begun at the University.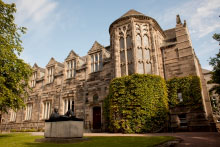 The University provides an opportunity for students to pursue the degree of their choice and facilitates academic growth and overall personal development. Its competitive focus towards research, diverse courses, excellent teaching, superb facilities and the care and attention provided to students make it an ideal University for students to entrust their future.
Here you'll find study options to suit your academic interests, and social and leisure activities that will contribute to your overall well-being, enjoyment and personal growth.
---
Why Choose University of Aberdeen
The academic strength you would expect from a 500 year old university – yet right at the forefront for careers in the 21st century.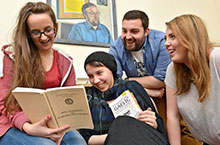 A thriving, cosmopolitan community with students from 120 countries set within a beautiful, historic campus that has seen five Nobel Prizes being awarded for work carried out, or begun at the University. Students are attracted by our tradition which is rooted in our 500 year history - but we are focused firmly on the future and are at the cutting-edge of research in many fields. Our attraction also lies in the quality of our courses and teaching, the research opportunities we provide, our superb facilities as one of the six Ancient Universities of Britain, and for the care and support which we provide for all our students.
---
A proven track record for employment
Our experience and connections can help secure that all-important first step on the ladder to a successful career. 93% of our students enter directly into good jobs, research posts or further study within six months of graduating.
---
Opportunities to develop yourself and your interests
Not only academic qualifications to rival the best, but also personal, communication and teamwork skills to make you an all-round achiever in whatever you choose to do. We boast over 150 clubs and societies for students to join and offer excellent on-campus sports facilities.
---
The very best learning resources
We pride ourselves on providing state-of-the-art learning resources for our students. Computing and library facilities are geared towards your needs and we are especially proud of our exceptional museums and special collections.
---
Choice and flexibility
It's your degree and we believe it should be planned around you, with the freedom to plan your own programme of study from a wide range of options. Flexibility and individuality are the University's real strengths. With over 550 first degree programmes on offer, students can mix, match and switch subjects as they discover new interests on route to their tailor-made degree. The University has numerous international connections with universities in North America, Asia and across Europe, affording students the opportunity to study abroad as part of their degree.
---
 Degrees which are recognised and respected worldwide
Unique programme options with professional accreditation, industrial placements, plus the opportunity to study abroad in Europe, North America, Hong Kong, Japan, China, Singapore or Korea.
---
A buzzing, friendly city that has it all
Aberdeen is everything a student city should be and more! Historic, international, fashionable and friendly, Aberdeen is the perfect place to live and study. Aberdeen has also been voted the best place to be a student in the UK by a leading accommodation website. Home to 250,000 people, it's the perfect place for work, for leisure and for play!
---
Cultural hub
The University is committed to supporting a wide range of cultural activities. In 2012 we were proud to host the British Science Festival. Highlights included lectures from Brian Cox and Bill Bryson as well as a T-Rex roaming the campus.
---
Multi-million £ investment
£270 million is being invested into new facilities and resources for students, including a flagship new library, student centre and Olympic standard sports village.
---
First-class accommodation
All new students are guaranteed a place in student accommodation, either on the campus or close by – so no need to set the alarm too early!
---
A supportive community
A self-contained friendly campus in a friendly city; we will do everything we can to help you quickly feel at home. Our support services rank with the best in the UK and we aim to make sure, right from the start, that you have access to any guidance you might need.
---
We're on the map!
Aberdeen is probably closer than you think. Cheap and regular air, rail and bus connections will get you around Scotland, the UK and further a field in no time.
---
FAQ'S
History
Scotland's third oldest university, founded in 1495.
First chair of medicine in the English-speaking world.
Five Nobel prizes have been awarded for work begun or carried out at Aberdeen.
---
Location and transport
Aberdeen is an attractive, cosmopolitan city of 250,000, with first-class sport and leisure facilities, and a vibrant nightlife.
There is easy access to nearby hills and countryside and Aberdeen itself has miles of golden sandy beaches.
Communication and travel links are excellent with buses, trains and an international airport.
---
Entry standards
Full details of our entry requirements can be found on the online prospectus.
---
Student mix
A student population of around 16,000.
120 nationalities represented in the student body.
Male to female ratio 46:54.
---
Course flexibility
As a result of an extensive review of the curriculum, from 2010, undergraduate students at Aberdeen have a more flexible degree structure which retains all the quality and depth of the traditional Scottish degree and adds further benefits.
Opportunities to choose new cross-disciplinary courses focused on real world problems or sustained study in a language or business.
Increased opportunities to broaden experience and skills through a wide range of optional activities overseen by the University, such as study overseas, work placements and voluntary work.
Over 550 first degree programmes on offer across three colleges.
Students are encouraged to tailor-make their degree programme to suit their interests and ambitions, and every student has an academic adviser and personal tutor to provide guidance.
---
Teaching standards
89% of subjects rated excellent/highly satisfactory.
The University has been praised by the UK Quality Assurance Agency for Higher Education for the quality of relationships between students and staff.
---
Research standards
Aberdeen has a long and distinguished research pedigree.
In the 2008 Research Assessment Exercise (RAE), 89% of the University's research was rated as of international quality, and 50% internationally excellent or world-leading.
---
Academic strengths
More than 500 years of academic excellence.
Within the three colleges of Arts and Social Sciences, Physical Sciences, and Life Sciences and Medicine, many degree programmes have been rated either the best in Scotland or in the top ten in the UK by numerous league tables.
Particular strengths lie in the university's founding disciplines of Arts and Humanities, Engineering, Medicine, Education, Divinity and Law.
---
Student facilities, including library and computing
In August 2009, the University, in partnership with the local city council, opened Aberdeen Sports Village, a modern, vibrant new facility which provides a variety of sports for all.
The £57 million Sir Duncan Rice Library opened in 2011. It is one of the largest and best equipped in the UK, offering excellent learning resources to support your studies. There are over 1,200 study spaces and a further 600 seats available at the medical and law libraries.
Largest wireless cloud in Europe covers the whole campus.
---
Disability services
Visit the website to find out about disability services at the University of Aberdeen.
Telephone +44 (0)1224 273935, fax +44 (0)1224 273569, or email student.disability@abdn.ac.uk.
---
Sport
New £24.5-million sports facility, Aberdeen Sports Village, opened in 2009.
£22-million Aquatics Centre, due to open early in 2014 and will include a 10-lane 50-metre pool and a 25-metre pool complete with full international standard diving facilities.
There are a number of sports bursaries available.
Over 50 sports clubs on offer for the amateur novice or professional athlete
---
Availability of part-time work
Plenty of part-time work available. The Students' Association runs a Joblink service, which advertises vacancies specifically for students.