Facilities

Student support and facilities
We pride ourselves on our extensive range of support services and facilities. Whatever course you choose to study, our resources are here to help you make the most of your time at Tresham University Centre.
Customer Service Teams
Our award winning Customer Service Teams are based at each campus, providing advice and guidance to both prospective and existing students. They can provide information and advice on courses, job hunting, financial support and one-to-one mentoring.
Learning Resource Centres
Each of our campuses has excellent Learning Resource Centres, which provide you with an extensive collection of printed and digital resources to enhance your learning. Internet access, quiet study areas and well-stocked careers libraries are also available at each centre.
Virtual Learning Environment (VLE)
All of our students have access to a VLE, enabling you to have access to course information, study notes and assignments from any online computer. These online resources ensure that you can work towards your qualification, wherever and whenever suits you.
Support for students with disabilities
We provide additional help, support and specialist equipment for students who may need support because of a disability, sensory impairment, learning difficulty or medical condition. On application you will be invited to an informal, confidential initial meeting where you can discuss your needs and future plans.
Careers Education, Information, Advice and Guidance
In addition to our Customer Services Teams, our College Works Teams give advice on everything to do with finding employment, including advice on writing your CV and job interview techniques. Many of our higher education courses have excellent links with local and national employers who offer invaluable practical industry related advice and support.
Equal opportunities for all
We are fully committed to providing equality of opportunity for all of our staff and students. We believe that the unique experiences, abilities and backgrounds of each individual at Tresham adds to the overall learning experience, and we work hard to provide a friendly and supportive environment to help everyone achieve their full potential.
Other facilities and services include
Information Technology Suites providing internet access, laser printers, scanners and video conferencing facilities 
Onsite refreshments including canteens and High Street coffee brands 
Extensive sports facilities including 3G AstroTurf pitches, fitness suites and sports halls 
Tresham Studios – these industry standard salons offer an extensive range of hair and beauty treatments at discounted prices for current students 
The Manor Restaurant, Tresham's prestigious training restaurant, is located in the beautifully refurbished Manor House building, next to the Corby campus 
Ample free parking at all campuses 
Multi-faith rooms with washing facilities
---
Student Finance
Course Fees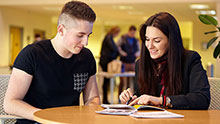 Course fee information can be found against individual course listings. Fees for courses offered in partnership with a university are set by the individual university that validates the course and can be subject to change. Please check with our Customer Services Team for the most current information.
For more information about Bursaries, tuition fees, funding, maintenance loans etc, visit our fees and funding page.