Overview

Study at St. George's University School of Veterniary Medicine
From exotic to small animals, orthopaedics to ophthalmology, St. George's University School of Veterinary Medicine prepares students to work in global health care with world-renowned faculty and affiliations in the United States, the United Kingdom, Canada, Ireland, and Australia. Our mission is to provide an international veterinary medical education with worldwide practice application through high quality instructional programs, community service, and clinical research. Students must exhibit strong academic potential; show compassion, be flexible, scientific-minded, motivated and aware of the ethical questions they will face in their work as a practicing veterinarian. We are privileged to have a diversified student body, composed of individuals from many different countries and cultures, bringing together a wide range of educational and work backgrounds.
---
Undergraduate Students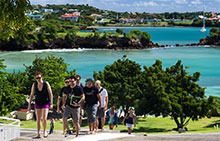 The program of study leading to the Doctor of Veterinary Medicine (DVM) degree is discipline based. The program is delivered in two phases: a three-year preveterinary medical program and a four-year veterinary medical program. This enables students flexible entry points depending upon their academic backgrounds. Three years of the four-year veterinary medical program core curriculum is in the form of lectures and labs completed in Grenada, and the fourth clinical year is completed at American Veterinary Medical Association-accredited 35+ veterinary schools in the US, UK, Canada, Australia, or Republic of Ireland. 
---
Postgraduate Students
The Graduate Studies Program at St. George's University is offered within the School of Medicine, School of Veterinary Medicine, and the School of Arts and Sciences. Students benefit from the University's community of over 100 full-time faculty members and the opportunity to participate in research projects in conjunction with the Windward Islands Research and Education Foundation, an independent research institute located on the True Blue campus.
The newest addition to St. George's School of Graduate Studies is a unique MBA program embracing the best features of distance learning with twice weekly online classes and combining it with two one-week residencies at our True Blue Campus in Grenada. Find out more
---
Visiting St. George's University
St. George's University is located in the Southwest area of Grenada, which is part of the West Indies, approximately 90 miles off the coast of Venezuela.
Accessibility
British Airways flies from London to Grenada, or London to Grenada via Barbados;
call: +(44) (0)345222111.
Virgin Atlantic Airways flies from London to Barbados and to Grenada;
please call: +1 (246) 228-4886.
---
Key Academic Dates
Terms begin in January and August of each calendar year.