Overview

Study at St. George's University School of Medicine
St. George's University School of Medicine remains at the forefront of international medical education after 35 years of academic achievement. It was the first private medical school in the Caribbean, the first to be accredited by the Caribbean Accreditation Authority and the leader in the first time scores on the US Licensing Examinations. Over 11,000 physicians have graduated; licensed in the US and Canada and practicing in over 50 countries of the world. There are over 300 Basic Sciences faculty at the True Blue campus in Grenada, and nearly 1,500 clinical faculty at the School of Medicine's affiliated hospitals and clinical centres in the United States, Canada, Grenada and the United Kingdom. 
---
Undergraduate Students
Students wishing to achieve the Doctor of Medicine degree may enter during the premedical program during one of the three premedical sciences years, or the four-year medical program beginning with the first year of Basic Sciences.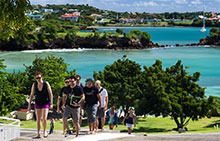 Students pursuing the Doctor of Medicine degree begin study in Grenada or in the UK at the Keith B. Taylor Global Scholars Program which offers medical students the option of spending the first year of the four-year MD degree program on the campus of Northumbria University in the United Kingdom and then the second year of the four-year program in Grenada. All medical students complete clinical training in one of 60+ affiliated centres in the United States, the United Kingdom or Canada. Find out more
---
Postgraduate Students
The Graduate Studies Program at St. George's University is offered within the School of Medicine, School of Veterinary Medicine, and the School of Arts and Sciences. Students benefit from the University's community of over 100 full-time faculty members and the opportunity to participate in research projects in conjunction with the Windward Islands Research and Education Foundation, an independent research institute located on the True Blue campus.
The newest addition to St. George's School of Graduate Studies is a unique MBA program embracing the best features of distance learning with twice weekly online classes and combining it with two one-week residencies at our True Blue Campus in Grenada.  Find out more 
---
Visiting St. George's University
St. George's University is located in the Southwest area of Grenada, which is part of the West Indies, approximately 90 miles off the coast of Venezuela.
Accessibility
British Airways flies from London to Grenada, or London to Grenada via Barbados;
call: +(44) (0)345222111.
Virgin Atlantic Airways flies from London to Barbados and to Grenada;
please call: +1 (246) 228-4886.
---
Key Academic Dates
Terms begin in January and August of each calendar year.