The Faculty of Technology, Design and Environment is an exciting place to study. Whether you are looking for a course in Architecture, the Built Environment, Arts and Media, Computing and Robotics or Engineering and Mathematics; we will start your journey towards your dream job.
---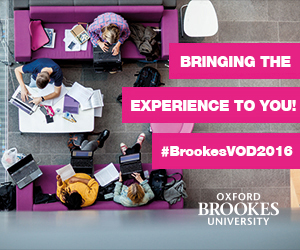 We have a vibrant community, where students are encouraged to experiment and push boundaries.  We have active student societies such as award-winning OxArch and Oxford Brookes Racing (OBR).  Our students are up to date on the latest industry developments, which makes them ready to meet any challenge. 
Our staff are involved in ground-breaking research which feeds into our courses and makes our graduates among the most sought after by industry.  We regularly collaborate with key figures on such issues as the latest sustainability agenda for the built environment or flood defences in the UK. Our staff and students work on projects that affect Oxford and the wider county, we are also involved in affecting governmental policies and work with national and international companies on research projects. These range from helping Oxford communities plan their neighbourhoods to working with leading motor racing teams on next generation race cars.  This research is internationally recognised.
---
Come and see us soon!
You can visit our campuses in person at one of our open days
You future is a click away!
Discover where Brookes can take you on our Virtual Open Days
To find out more about what it means to be a Brookes student, visit our website
School of Architecture: http://architecture.brookes.ac.uk/
School of Arts: http://arts.brookes.ac.uk/
School of the Built Environment: http://be.brookes.ac.uk/
Department of Computing and Communication Technologies: http://cct.brookes.ac.uk/index.html
Department of Mechanical Engineering and Mathematical Sciences: http://mems.brookes.ac.uk/index.html
---
Key facts
Teaching Excellence
Our postgraduate Project Management in the Built Environment and Construction Project Management courses are accredited by Chartered Institute of Building
Our Architecture BA and MArchD programmes are fully accredited by RIBA
Our Engineering courses are accredited by the Institute of Mechanical Engineers (IMechE) and the Engineering Council.
Our Mathematics courses are accredited by the Institute of Mathematics and its applications and CII.
The City and Regional Planning programme at Brookes is ranked amongst the top 10 urban planning courses in the world.
Our City and Regional Planning BA is accredited by the Royal Town Planning Institute (RTPI) and our BA Planning and Property Development is accredited by the Royal Institution of Chartered Surveyors (RICS). Our MPlan City and Regional Planning is accredited by both.
The Guardian University Guide (2014) rated Brookes 11th best in the UK for mathematics subjects
Our Department is one of the first in the UK to offer a Software Development for Business degree. Developed by the Tech Partnership, a growing network of employers collaborating to create the skills for the digital economy.
In the latest government assessment 84% of Computer Science and Informatics research in the department was judged to be internationally recognised.
The Guardian University Guide 2015 ranked Oxford Brookes:
Art 3rd out of 62
Publishing 2nd out of 58
Film 10th out of 79
Fine Art students exhibit at Free Range every year and take part in field trips to exhibitions and galleries around Europe.
Brookes has 11 music societies, from jazz band to opera. We put on more than 50 concerts, gigs and performances every year.
The Oxford International Centre for Publishing Studies is one of the leading centres for publishing education in the world. Our students come from all over the world to take high quality courses in the largest department in Europe.
Facilities
The Abercrombie Building, home to the School of Architecture, received both the Building of the Year and Sustainability award along with the John Henry Brookes Building at the Royal Institute of British Architects South Awards 2014.
Oxford is home to two art-house cinemas, the Phoenix Picturehouse and the Ultimate Picture Palace, both of which offer a range of work experience to Brookes students.
Our students have also worked on Skyfall and Downton Abbey.
Our facilities include the 6K Red Epic Dragon camera and a brand new 4K Cinema Room with Dolby Atmos sound.
Research & Knowledge Exchange
A 2014 Knowledge Transfer Partnership between Oxford Brookes and YASA Motors, an Oxfordshire based engineering company, won the 'Engineering Excellence' prize from Innovate UK at the prestigious Best of The Best awards.