Facilities

Loughborough University has a strong tradition of looking after its students and investing in facilities. From our stats-of-the-art IT facilities to our award-winning mathematics support, we aim to provide you with the best of everything.
Recently completed £5M Library refurbishment
Investing £100M in facilities over the next 3 years
Wireless networking across campus
Unrivalled sports facilities and coaches
Full range of recreational activities available
The Students Union is owned, controlled and run by the students
Over 80 societies and over 50 student-run sports clubs
14 vibrant undergraduate halls with 5,300 rooms and an accommodation guarantee for firm choice students
Two theatres
On-campus restaurants, banks, shops and hotel accommodation
Dedicated centres for maths support, English support and engineering and design excellence
On-campus medical centre, pharmacy, dentist and optician
Disability, counselling and mental health support for students
Amenities include
A wide variety of shops, cafés, restaurants and bars across the campus, with food from takeaway snacks to high-class restaurants
Plenty of  places to sit outdoors and study, talk with friends, or just relax
300-seat theatre
100-seat studio
250-seat auditorium which hosts concerts, film, art, dance and drama
---
Sport
We are proud of our hard-earned reputation for sport at Loughborough, but our constant focus is on ensuring every student has the opportunity to get involved, regardless of ability or interest.
We've been voted The Times Sports University of the Year and have the largest student-led Hall-Sport programme in the UK with over 30 sports available. There is also a full range of recreational activities ranging from Boxing to Badminton and Zumba to Body Pump
Performance sports is available for those wishing to compete at national or international levels – Loughborough had over 120 athletes compete at the 2014 Commonwealth Games
Find out more about Loughborough Sport on our website.
Our outstanding facilities include:
Health and Fitness Centre
Strength and Conditioning Gym
50m Swimming Pool
4 Recreational 'Parks' including Beach Volleyball
Running, Cycling and Walking Routes
International Athletics Stadium and Indoor Training Centre
Multiple Indoor Sports Halls with specialist centres in Badminton, Basketball, Netball and Tennis
7 Studio Spaces
4,000 capacity Stadium and extensive outdoor pitch complex
The National Cricket Performance Centre
Three, full size, floodlit, synthetic pitches including a water base hockey pitch
---
Fees and Finance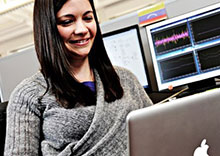 We are committed to attracting the brightest and best students regardless of background and have a generous package of bursaries and scholarships available.
Information about our fees can be found here
Further information can be found here
Please visit our website for more information