Facilities

Student services
DMU is committed to providing a high-quality experience for all students and our Student Gateway provides a wide range of excellent student welfare services.
Our Student Finance and Welfare Team provides high-quality, professional advice and guidance on a diverse range of funding matters, including identifying the funding students are entitled to, adopting effective budget planning techniques, supporting students to successfully complete their student finance applications and assessing Access to Learning Fund applications.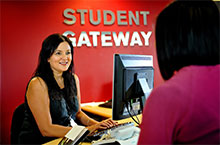 Our inclusive philosophy is exemplified by our award-winning Disability Advice and Support Team. DMU recruits students on the basis of their academic ability and welcomes disabled students as equal participants in every aspect of university life. The team are passionate about supporting disabled students to excel and assist disabled students to apply for Disabled Students Allowances (DSAs).
Our Mental Health Inclusion Team assist students with the practical impact of mental health conditions in a university environment. They offer professional advice and support, assess students' needs, offer appropriate intervention and identify strategies to help students effectively manage their mental health in relation to their studies.
DMU's Counselling Team supports students in managing or resolving personal problems so that they don't disrupt their studies. As well as traditional counselling, they also provide e-counselling, life coaching and an extensive range of self-help materials.
The International Student Support Team provides assistance and advice for students, both on arrival and throughout their time at DMU. The team also runs trips and social activities that enable international students to enjoy a full and enriching range of UK experiences.
Religious support – the Chaplaincy provides a wide range of practical and spiritual support and resources to students of all faiths/non-faith across our campus. Students can talk to chaplains about a range of issues which might include bereavement and loss, faith, and relationships. The Muslim Chaplain/Imam works with colleagues in Student and Academic Services (SAAS) to enhance the student experience by providing advice and guidance on matters relating to faith and religion, both to students and to members of staff on the needs of their students. The prayer room is located on the lower ground-floor/basement of the Portland building.
The official GP surgery for DMU students is De Montfort Surgery, which is located on the campus.
---
Student community
A recent £3 billion regeneration has transformed Leicester into a vibrant hub of entertainment, commerce and culture. Boasting the iconic Curve theatre, £350 million Highcross shopping centre housing more than 100 major retailers, and a thoroughly modernised centre, everything you would expect from the 10th largest city in the country is just a few minutes' walk away from the campus.
Leicester has fantastic events that take place all year round, from comedy festivals to summer music festivals and much more. There is also an exciting range of cultural events that celebrate Leicester's rich diversity and sense of community. These include the Riverside Festival, the spectacular Diwali Festival, the Leicester Caribbean Carnival and Leicester Pride.
De Montfort Students' Union (DSU)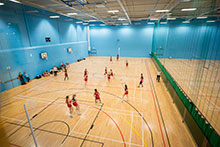 ensures students have the best possible experience at DMU. There are close to 100 sports teams and societies to join, where you can meet new friends who share your interests. Located on the first-floor of the Campus Centre, you can relax in The Lounge, enjoy refreshments in The Lobby and party in our award-winning venue Level 1.
DMU enters teams into the British Universities & Colleges Sport (BUCS) leagues for sports including badminton, football, hockey, rugby and volleyball and students also benefit from huge discounts on sports tickets thanks to DMU's partnerships with Rugby Union champions Leicester Tigers, Leicester City Football Club and Leicestershire County Cricket Club.
---
Study facilities
In recent years DMU has invested more than £260 million in facilities, ranging from industry-level equipment, studio spaces, learning zones and a first-class library, to modern accommodation and a wide range of recreational amenities. A further £136 million is being invested in an ambitious campus transformation to provide students with a high-quality learning environment.
Our world-class study facilities provide everything students need to hone their skills, be creative and defy the status quo.