Our Students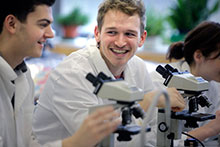 Our students love studying at CRC - they like our small classes, fantastic tutors and impressive facilities. And they also value our low fees – with no loss of quality on our great HE programmes. Here's what some of our current and former students say:
"The experience of studying Higher Education at CRC was tremendous. Small groups helped aid progression and I liked the familiarity with the tutors. It was very straightforward to progress on to a top-up degree." 
Chris Denis, former HND Sports Studies student
---
"The course is cheaper than going to university and if you want to work full-time after the first or second year, you can leave with a valuable and acknowledged qualification. The lecturers are friendly and extremely helpful and will guide you to get the best possible grade you can." 
Polly Debnam, HNC Business Studies student
---
"CRC is a very well-run college which can lead to great opportunities and great careers. The staff are a major part of why I like studying at CRC – they are all very highly qualified and excellent in what they do, providing great knowledge and understanding in all areas."
Bradley York, current HNC Uniformed Services student
---
"All the tutors and technicians are practicing artists in their own right and they are all willing to share their skills and knowledge with you. I looked forward to going every week and the holidays couldn't finish soon enough so I could get back into the studio. I simply loved being there." 
Liz Mills, former HNC Art & Design student 
---
Our Lecturers 
Our lecturers are at the heart of our success as a college, bringing industry expertise into the classroom to ensure our HE students benefit from their experience as well as their teaching skills. If your ambition is to make a career in the arts or join the police or military, for instance, then being taught by a specialist in that particular field, with practical experience, is an enormous advantage. 
Tutors are friendly and approachable, with a very high degree of knowledge and understanding of their subject. Small class sizes mean every student is treated as an individual, with plenty of one-to-one time to make sure everyone achieves to the best of their ability. 
Our lecturers consistently receive high praise from our students… 'friendly and personal'…'very approachable'… 'excellent teachers'…  'great staff'… 'highly qualified and excellent in what they do'…'great knowledge and understanding'… 'friendly and extremely helpful'… 'brilliant, supporting us all through the course individually'.