Facilities

At BIMM, our facilities are second to none.
Whether teaching rooms, performance areas, recording studios, rehearsal spaces, post-production suites or Mac labs, all our facilities are filled with high-tech industry-standard equipment and software provided by the world's leading musical instrument manufacturers.
And our expert tutors are always on hand to make sure you're getting the best out of them you possibly can.
---
Facilities in detail
BIMM Brighton
Brighton is where it all began for BIMM – and it's where your success story starts too. With three incredible facilities across the city, the College has everything you need to make your mark on the music industry.
Across BIMM East, BIMM West and BIMM House, the Brighton campus boasts 14 brilliant teaching rooms, a staggering array of top-quality equipment and no fewer than four live performance venues. The sheer scale of the place is an inspiration to anyone dreaming of a music career.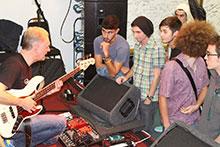 You'll experience Brighton's music scene away from the College too. BIMM Brighton offers students free rehearsal space at the city's Monster Studios, while Brighton Electric is often used for auditions and assessments.
The hub of this place is the common room though, located at BIMM West. It's where you'll relax and unwind, but also develop your talent – because even in your downtime, you'll be hanging out with some of the finest musical minds in the country.
Find out more about BIMM Brighton facilities
---
BIMM Bristol
Specialist studios, amazing equipment and a 65-seater performance venue make BIMM Bristol the place to turn your music dreams into a successful career.
Talent alone will get you so far – but at BIMM Bristol, we give you the tools of the trade, the all-important industry connections and the ideal environment to put in the necessary hard work too.
The Bristol campus revolves around the city's King Square, where our 8,000ft2facility has stood since 2008. There's seven teaching rooms here – all kitted out with top-spec, professional-quality music equipment – plus a library, several tutorial rooms and a common room.
Like any college, the common room here is a hive of activity – an area to catch up with friends and socialise between sessions. But here you'll be rubbing shoulders with the country's top musical talent, mixing with like-minded people who share your passion for all things music.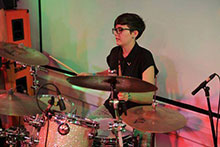 If your passion is for performance, you'll get the chance to show it on stage too – under the lights, in front of a crowd. Our 40ft live performance room is equipped with a 4K PA system, guitar and bass amps by Marshall, Orange, Ampeg and Laney, drums by DW and a Kurzweil stage piano.
But of course, before the performance comes the practice – and we're geared towards plenty of that. Colston Hall, Bristol's leading concert hall, offers rehearsal spaces to BIMM Bristol students free of charge.
Find out more about BIMM Bristol facilities
---
BIMM Dublin
Ireland's finest facility for up-and-coming artists, BIMM Dublin's state-of-the-art studios and suites make this a special place to develop your musical talent.
Across two sites, both at the heart of Dublin city centre, we provide exceptional equipment and learning environments to give you the best possible chance of a successful music career.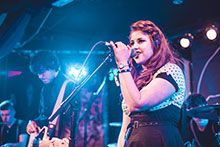 That means every room is kitted-out with vintage and modern musical equipment, plus full PA facilities. And it means we source our backline equipment only from the industry's leading manufacturers – including Yamaha, Fender, Cornford, Marshall, Mapex, Mesa, Boogie, Vox, Ampeg, Peavey, Hiwatt, Orange and Roland.
Everything here at BIMM Dublin is set up and ready for you. All you need to provide is the application – in more ways than one.
Find out more about BIMM Dublin facilities
---
BIMM London
More than just the capital of the country, London is the capital of the music world. With facilities befitting of the city's status, BIMM London is the ultimate place to prepare for the rigours of the music industry.
The College, which opened in Fulham in 2013 following a £3m investment, spans five storeys and 19,000ft2. It's an incredible building and a stunning place to go to work each day – but just like the best artists in music, the College boasts style and substance in equal measure.
There's an incredible 25 teaching rooms here, all kitted-out with equipment from the world's leading musical instrument manufacturers. Guitars from Gibson, Fender and Ernie Ball, drums and keyboards by Yamaha, amps from Marshall, Hartke and Peavey and mics from Shure and Sontronics.
There's a Mac suite too, complete with industry software favourite Pro Tools, plus mixing rooms and post-production suites, for students pursuing a more technical route into the music profession.
Indeed, whichever side of the studio you see your future on – whether you're a performer or a producer – we've got everything here to get your musical ambitions off the ground.
Connections can be are a big part of that too. So alongside all the first-class facilities and industry equipment, it could also help that Universal Publishing (the world's leading music publisher and home to artists such as Adele and Coldplay), is right on our doorstep…
Find out more about BIMM London facilities
---
BIMM Manchester
The music scene in Manchester is legendary, and BIMM's newest campus puts you right at the heart of it.
It's an ultra-modern, 12,000ft2 facility with superb teaching spaces and a stunning common room – and the city's biggest music venues just a stone's throw away.
The College's contemporary interior was designed by the same architect responsible for The Hacienda, the iconic venue that inspired Manchester's music revolution in the 80s and 90s. It's just around the corner from BIMM – and other famous venues like Gorilla, the Ritz, Sound Control and the Academies are right on our doorstep too.
Naturally then, BIMM Manchester is an exciting place to be, and there's real opportunity here for top musical talent. But there's hard work to be done too – so our facilities are geared up to get the very best out of you every day.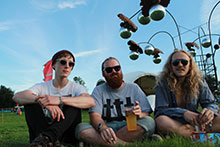 All eight of our teaching spaces are equipped with full PA systems and industry-quality backline equipment, including vintage and modern instruments for all specialisms. We also have a state-of-the-art Mac suite with all the latest software for our Music Production students.
There's no recording studio on site here. Instead, we go one better. Through connections with Blueprint Studios, we're able to offer free rehearsal spaces nearby – at a complex used by local heroes, Elbow.