Overview

Your career starts here
If you choose to study at BIMM, you'll be joining the best connected music college in the UK and Ireland.
You'll learn technical skills and theory from some of the world's greatest musicians, plus we'll teach you the ins and outs of the industry too. Every day you'll collaborate with some of music's finest aspiring performers, songwriters and producers – backing up everything you're learning, every step of the way.
---
BIMM tutors
With years of experience in the music industry, our tutors have achieved a lot. They've toured the world, scored multi-platinum hit records, interviewed global superstars, organised major music festivals, and collaborated with some of the world's most incredible acts, including Oasis, Prince, Rolling Stones, Beyonce and Sir Paul McCartney. So, let our tutors guide your music career – because they're connected to a life in music.
Find out more about BIMM tutors
---
Success stories
Success doesn't always come easily. It takes the right combination of talent, hard work and valuable connections to make your way in the music industry these days.
But we know our methods here at BIMM are working, because we regularly celebrate the achievements of our students and alumni who are making a name for themselves in the business… and we couldn't be more proud.
George Ezra
George Ezra, who was discovered and signed whilst a student at BIMM Bristol, has had an incredible 2014 — and now his success has been recognised by the BRITs, nominating him for a remarkable four awards!
He's on the list for both British Breakthrough Act and British Male Solo Artist, as well as British Album Of The Year for 'Wanted On Voyage', and British Single for 'Budapest' — and he'll be performing at the ceremony itself too!
It means that the Hertford-born songwriter is competing with some of the biggest names in British music: he's up against the likes of Damon Albarn, Sam Smith, Ed Sheeran, and Mark Ronson.
George was discovered at a BIMM Bristol showcase and he was snapped up by management company Closer Artists, before being signed to Columbia Records.
Discover more BIMM success stories
---
Industry connections
We use our industry connections to generate unique opportunities for our students, giving them the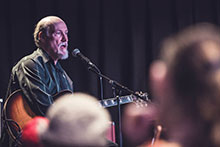 best possible start to their career.
Everything from gig nights and work-based learning with our strategic partners, to artist development programmes, festival work experience, careers advice… and so much more. So if you want to make it in music, connect with us, and we'll connect you to a life in music.
Find out more about industry connections
---
Fees and finance
All of our undergraduate three year degree courses are great value at under £6,000 per year for UK & EU students, and our scholarships and bursaries offer a helping hand too. If you're looking to study on a diploma course and you're under the age of 18, you may be eligible for free funding. Find out all you need to know about how to finance your studies here.