Facilities

Facilities at Aston
There is a wide range of support on offer to Aston students to ensure your time here is a success in academic, social and personal terms. The close-knit community on campus helps to ensure that our students know where and who to turn to if they have issues or concerns. This support is available whether you are living on or off campus.
---
Students' Union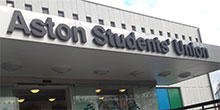 The Students' Union aims to provide a wide range of services and support, to help make student life as easy and enjoyable as possible. As the union is run by students for students we'll always do our best to provide whatever you want, and help you out if you run into any difficulties.
---
Clubs and societies
Over 120 clubs and societies are run by students for students. With so many to choose from, you're bound to find a club or society to suit you, and if you can't, you can set one up. Clubs and societies are a perfect way to meet new friends, try something that you've never done before and can even enhance your career prospects.
---
International Students
International students from over 120 countries study at Aston University each year, living in a lively, safe and friendly atmosphere. Our students make the most of their time on campus with a high level of participation in clubs, societies and sports.
---
Sports 
Aston University students have the benefit of accessible and affordable high quality sports facilities right on the doorstep. Whether you want to train, compete, keep fit or just have fun with friends, Aston can provide you with a wide range of opportunities.
---
The Library
The library has four floors and contains 150,000 volumes with over 1,000 reader places. There is online access to over 50,000 electronic journals in all subject areas and all journals, e-books and other key online information resources can be accessed from any computer on campus, or other locations off-campus.
---
IT Facilities
There are more than 50 computer labs across the Aston Campus, many of which can be accessed 24 hours a day, seven days a week. You will have access to a range of networked software packages, database systems, modelling tools and online research tools
---
The Learning Development Centre (LDC)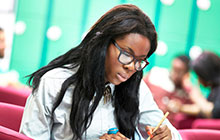 The learning Development Centre provides innovative and practical support to enhance your learning at Aston. The LDC brings together a range of services including
advice on writing for assignments and research, a maths support centre staffed by specialist tutors, programming support and general study skills guidance covering exam and revision techniques, presentations, working in groups and much more.
---
The Hub Advice Zone
The hub advice zone can help on issues ranging from immigration (student and work visas) to academic advice; student hardship funds to student finance; taxes (Council Tax and Income Tax) to debt; legal issues and social security benefits.
---
Advice & Representation Centre (ARC)
The Students' Union's independent representation centre for advice independent of the university. The ARC also manages Aston 'Studentpad' the best source of non-campus accommodation for Aston students.
---
Support for care leavers
Aston welcomes applications from students from acare background. You can expect dedicated careleaver support; a care leavers' non-repayable bursary;and a guaranteed place in University accommodation
---
Students with disabilities and specific learning difficulties
We welcome applications from students with disabilities or long-term medical conditions. We have a number of specially adapted rooms on campus, catering for students with disabilities. Accommodation on campus may be guaranteed for the duration of your course if your individual circumstances warrant this. Rooms are available with ground floor/lift access, larger floor space, en suite bathrooms, vibrating alert/doorbell systems, shower seats, grab rails etc.
To help you plan and prepare for university life, the Disability Team can provide advice and support on a confidential basis.
---
Self-contained campus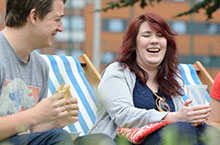 Our self-contained campus gives Aston University students the best of both worlds:a green, well-equipped, friendly campus in the heart of a vibrant city. All our social, support and academic facilities are based on campus, so you never have far to go. Aston University is less than five minutes walk from Birmingham city centre and its many shops, restaurants, galleries, theatres, cinemas, pubs and clubs.
---
Birmingham
Birmingham is Britain's second city and internationally recognised as a leader in leisure, entertainment, shopping and sport. Birmingham is an international centre for business, commerce and industry, housing numerous UK and overseas banks, law firms and Europe's second largest insurance market. Birmingham attracts 25 million visitors each year and contributes billions to the national economy through manufacturing and engineering.
To find out more, visit: www.aston.ac.uk/birmingham