Overview

Study at the Arts University Bournemouth
We are the leading Arts University for the creative industries. We relentlessly innovate, collaborate and connect in ways that turn creative talent into careers. 
---
Why AUB?
Do more than study: Make

We encourage a maker culture where students see the practical application of everything they do.
We equip students with the skills the creative industries demand (our employment stats say we're doing something right).
Do more than Teach: Inspire
We expect our teachers to do more than inform.
We want them to inspire a generation with memorable, ground–breaking courses. To help them, we invest in their research, support them in their real world businesses, and encourage them to bring innovation into their courses.
Do more than attend: Live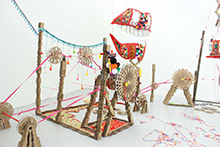 We want students to live life to the full, on campus and off.
This shouldn't be difficult when you're surrounded by the New Forest, great beaches, and World Heritage Jurassic Coast. Bournemouth boasts a great nightlife and culture too. Oh and London is just two hours away.